It finally happened! Today we all followed the fantastic Eurovision 2009 final. There were amazing performances, the decorations provided by New York-based set designer John Casey looked stunning. The fact that the stage was made up of various types of LED screens made each show look absolutely different and unique. It was beautiful! There were many really catchy songs at Eurovision 2009. The truth is, if after the performance part of the contest is over and everybody's voting, you keep on singing one of the songs – this exactly song has all chances to win.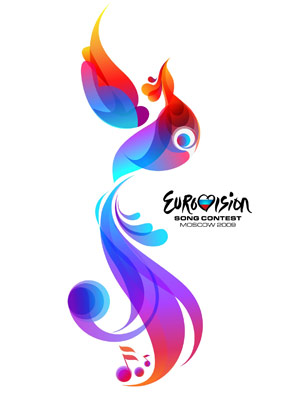 For the first time in the history of Eurovision an "unearthly" team gave the start to the earthly voting. The international space station connected to the live broadcast and started the voting with the famous word said by Yuri Gagarin, the world's first astronaut – "Poekhali" ("Let's Go") – when he was departing. So, Russia was really very creative in organizing the contest. As executive supervisor of the Eurovision Song Contest Svante Stockselius, it will be very difficult to make a better show.
Eurovision 2009 Results
And now you surely want to know the winner of Eurovision 2009 song contest. Here are the results. The first place at this Eurovision song contest went to Norway (Alexander Rybak – "Fairytale"). Congratulations to the winner! The second place went to Iceland (Yohanna – "Is It True?"). Azerbaijan (AySel and Arash – "Always") was #3.
So, again:
 Norway (Alexander Rybak – "Fairytale")
Iceland (Yohanna – "Is It True?")
Azerbaijan (AySel and Arash – "Always")
Turkey (177 points);
United Kingdom (173 points);
Estonia (129 points);
Greece (120 points);
France (107 points);
Bosnia and Herzegovina (106 points);
Armenia (92 points);
Russia (91 points);
Ukraine (76 points);
Denmark (74 points);
Moldova (68 points);
Portugal (57 points);
Israel (53 points);
Albania (48 points);
Croatia (45 points);
Romania (40 points);
Germany (35 points);
Sweden (33 points);
Malta (31 points);
Lithuania (23 points);
Spain (23 points);
Finland (22 points).
Norway was the leader from the very beginning of the voting results announcement (Norway got 387 points, which is a record). And there was no doubt that he was going to win Eurovision 2009 song contest in Moscow.