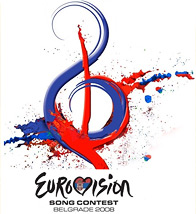 I've already written about the first semifinal of Eurovision 2008. And here's the list of the countries, which artists will show their performances in the final on Saturday, 24 May 2008:
Ukraine,
Croatia,
Albania,
Georgia,
Iceland,
Latvia,
Sweden,
Turkey,
Portugal,
Denmark.
It's very nice to see all them in this list. Congratulations again!
Out of everything I heard this evening there were songs I really liked. I'd like to share with you my impressions.
Euroband from Iceland
As for Iceland, which was presented by Euroband, I would say it was cheerful, but I didn't like it. I would not vote for it. I wonder, who did this.
Charlotte Perelli from Sweden
Well, judging by the way it looked, it should have been called sexy, but it wasn't. It was just pure pop music. Too simple. But not disgusting.
Mor ve Oetesi from Turkey
This was rock, and I must say, a good rock. I liked it, the guy sang very well and the style stood out compared to other performances. A big plus!
Ani Lorak from Ukraine
I've nothing again this country, I even had the opportunity to travel there, but the singer presenting Ukraine was far not the best. She was just "one of the". One of those, who sang pop music, danced, made the same movements and tried to look sexy. No more of this, please.
Jeronimas Milius from Lithuania
Jeronimas Milius was really disgusting. With his a la rock style and a whimper voice – brrr! This was (one of) the worst show (s) I've ever seen in my life.
Olta Boka from Albania
Olta Boka sang a beautiful song, she has a nice and a pretty strong voice. Sometimes the language the song is sang in doesn't influence the entire impression of the show at all. Unfortunately this was not the case. It spoiled the performance a bit. Although the overall effect is positive.
Paolo Meneguzzi from Switzerland
Switzerland was presented by a very talented young man Paolo Meneguzzi, who sang a beautiful song and demonstrated a nice show. He is already quite popular in his country, as I've understood. I can see, why. Liked!
Tereza Kerndlova from Check Republic
Check Republic was presented by sexy girls, who wore less clothes than anybody else at Eurovision 2008. But, unfortunately, this didn't help them to get to the final. Very beautiful country (especially Prague), but the girls were not liked by the audience that much. Judging by this show, it's better to visit Check Republic, than to listen to Czech singers. The dance was cool. But, perhaps, too much pop for one evening.
Ruslan Alehno from Belarus
"Asta la vista, baby" – sang Ruslan Alehno, who was presenting Belarus. I wish he stood at home with this song. He was hoping, that the four girls in mini dresses would help him to be voted on, but not, it didn't work. If the Czech sexy girls were not chosen, than this guy with his song, which was quite primitive and absolutely not interesting, was even less likely to be. No more like this!
Pirates of the Sea from Latvia
The band from Latvia named "Pirates of the Sea" are crazy. No, really. It was such a disgrace: the absurd song, the music resembling "early" Scooter, the stupid dance, the steering wheel – everything showed, that the "wolves of the sea" were drug addicts. I can't imagine anybody in a good health to sing this… Sorry, it's hard to describe.
Kraljevi Ulice and 75 Cents from Croatia
Bravo for this old man to be on the stage. The song in Croatian was nice, the dance of the woman in the red dress was beautiful as well, it brightened the almost motionless figures of the others. It seemed to be something created absolutely not for this event, which is arranged more for young audience, but, surprisingly, it was voted on. Respected.
Deep Zone and Balthazar from Bulgaria
The artists presenting Bulgaria sang in English. This was a dynamic show with a nice dance, very unusual guitars and a piece of sexuality – the queen in a luxurious red dress wearing red stockings and a corset. Memorizable.
Simon Mathew from Denmark
Simon Mathew was so cool with his show. There was a whole band. The song was so beautiful, that I would like to listen to it again. I hope, these artists will be the winners on Saturday. Or someone as talented, as they are. Would vote on it.
Diana Gurtskaya from Georgia
Diana Gurtskaya is a blind girl, not too talented in singing, but her singer career has been lasting for a pretty long time with her own fans. It was a nice song. In general I liked it. And not only me.
Csezy from Hungary
Csezy showed something wonderful. The white piano played by the man and the song sang by the woman (sorry, I don't know their names) was very-very beautiful and romantic. Unfortunately they were not chosen for the final.
Morena from Malta
Morena, please, leave the stage of Eurovision 2008! I'm sorry to be so unfriendly, but the show presented by Morena was as disgusting, as that of those Pirates from Latvia. The only difference was that those guys looked like junkies and Morena looked like someone fond of vodka – this was the name of her song. Horrible!
Evdokia Kadi from Cyprus
Evdokia Kadi sang a nice song and even changed her costume during the performance. The dance looked graceful. And this is all I can tell you about her show. Not very remarkable.
Tamara, Vrcak and Adrijan from FYR Macedonia
The trio was satisfactory. There was a hint at hip-hop, a woman in a décolleté, a quite usual song. It was not appreciated by the audience.
Vania Fernandes from Portugal
A sad song presented by Vania Fernandes from Portugal was boring. Although her voice is beautiful and she has indeed a singing talent, she could have chosen something more dynamic – something, what everybody is waiting for at Eurovision. But Portugal was liked by the public, congratulations anyway!
So, now you know the results of the second Eurovision 2008 semifinal. Do you agree with them or do you think, it should have been another way? Please, fell free to leave your comments and impressions of the Eurovision and share your thoughts about a single performance or song.