Harvard University hosted the 2009 Ig Nobel Awards Ceremony. Ig Nobel awards are presented for the stupidest scientific achievements as a parody of the Nobel Prize Awards Ceremony which will take place next week. One laureate was a woman from US who patented a bra that can be easily converted into a pair of gas masks for two persons.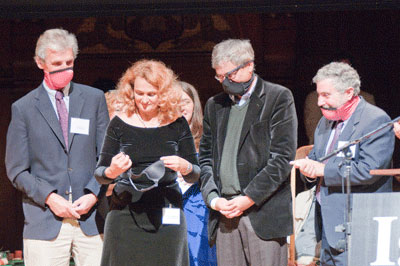 Medicine Ig Nobel Award
A California doctor captured a medicine award for proving that cracking one's knuckles didn't cause arthritis. The experiment lasted 60 years.
Biology Ig Nobel Award
Laureates were Japanese scientists who invented a method to reduce kitchen wastes by 90 percent by using bacteria living in the feces of pandas.
Piece Ig Nobel Award
Piece award was given to Swiss scientists who determined that smashing empty bottle of beer over the head is more dangerous than doing it with a full bottle.
Ig Nobel Prizes were established in 1991 by humorous magazine Annals of Improbable Research.
Funny Medicine Ig Nobel Awards of the Past Years
Since that medicine awards were given to:
2008
Dan Ariely of Duke University and Rebecca Waber for determining that expensive placebos are more effective than cheap placebos.
2007
Brian Witcombe (Gloucester, UK) and Dan Meyer (Antioch, TN) for their article about adverse effects of swallowing swords published in the British Medical Journal.
2006
Israeli scientist Francis M. Fesmire along with his three colleagues for determining that bad bouts of hiccup can be cured with rectal massage.
2002
Chris McManus of University College London for his report Scrotal Asymmetry in Man and in Ancient Sculpture.
2001
Peter Brass of McGill University, Canada, for his medical report Injuries Due to Falling Coconuts.
Five-Second Rule
Whether the rule really works was seriously studied by intern Jillian Clarke of the University of Illinois. The lab's floor was covered with E.coli and then cookies and candies were dropped on it. They found that it took bacteria a few seconds before they could get on the food. The follow-up survey showed that 70 percent of women and 50 percent of men met the rule, with sweets being picked up more often than cauliflower. In 2004, Clarke was presented Ig Nobel health care award for that research.
Source of the image: popgadget.net.