Gluttons all over the world fall for Whoopie Pies, these traditional American goodies that remain popular through the years – the very wish of every elegant woman! Supposedly that was the idea behind these delicious little pots containing Whoopie Pies lip gloss. Make your lips as desirable for a lot of people as the famous pies are, and no danger of putting on unwanted weight whatsoever!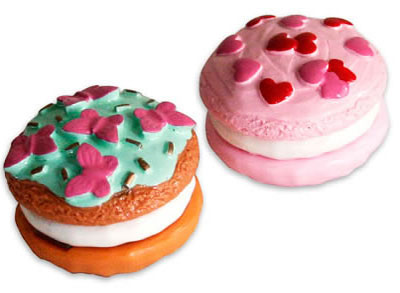 The calorie-less yummy taste is acquired for the price of $9 from a two-pot gift set. The pot with hearts on the top has got strawberry flavored lip gloss and the one with butterflies tastes of melon and honeydew. Being small they are very easy to be carried about in any purses however miniature so you can remain sweet on any occasion.
Source of the image: Globalpost.