With the Grammy and Oscar ceremonies, we almost forgot about the Fashion Weeks. New York and London Fashion Weeks have already finished, and today we are going to sum up the results of Milan Fashion Week 2012, looking forward to Paris.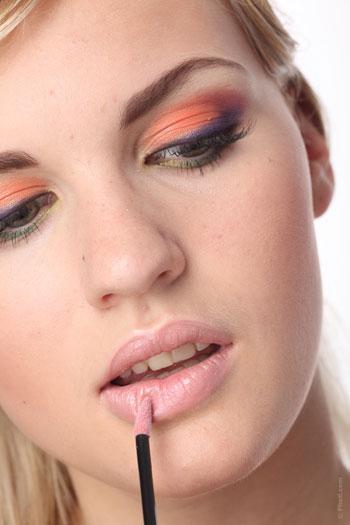 If New York often means more challenging and even bold ideas, it is different in Milan. Paying tribute to the Italian baroque style, the makeup presented by the Italian brands is always characterized by chic and elegance. Let us see what the Italian designers offered in Milan for the Fall 2012 Makeup
Alberta Ferretti
The image of the prima ballerina with the soft glowing skin, framed by accurate hair with much gel and a low bundle.
Giorgio Armani
Mysterious strangers in fedoras with monochromatic eye make-up.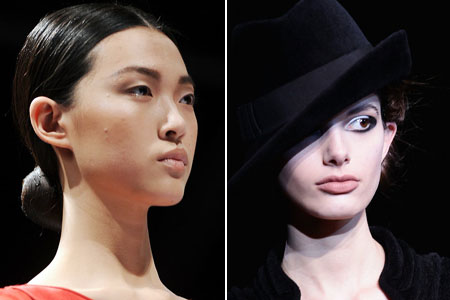 .
Blumarine
We go back to the 1970-s. Long hair, thick eyeliner and plenty of accessories.
Byblos
Byblos makeup artists seem to have been inspired by the Indians.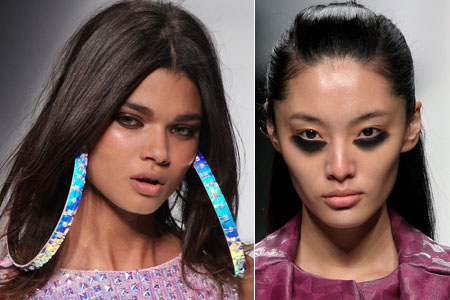 Bottega Veneta
Black lipstick and a dramatic look, but the lack of mascara on the eyelashes softens the image.
DSquared2
The models of DSquared2 seem to originate from the films by Federico Fellini made in the 1960-s.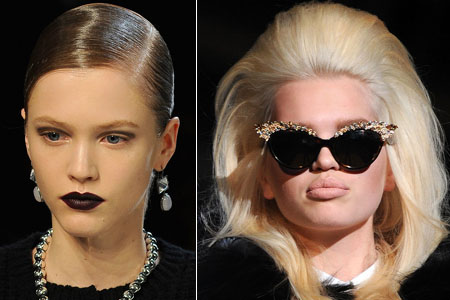 Dolce & Gabbana
The girls from Dolce & Gabbana were distinguished by their Rococo make-up and rich hair accessories, as in the paintings by Jean-Honore Fragonard.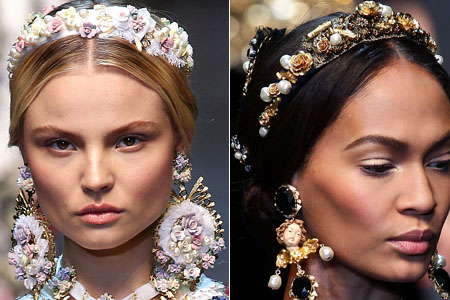 Etro
Joan Smalls looks wonderful without makeup and with straight hair. Such is the philosophy of Etro – simple and beautiful things.
Fendi
Fendi often presents unexpected hairdos and makeup, just like in this show. Celtic hairstyle with braids and eye makeup with ice shadows and coal eyeliner.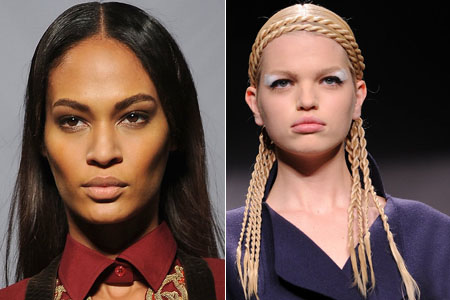 Gianfranco Ferré
Gianfranco Ferré is a fan of rich smoky eyes.
Gucci
Critics have called these models "prim": dramatic red lips, pale skin, and coiffed hair. A good vintage image.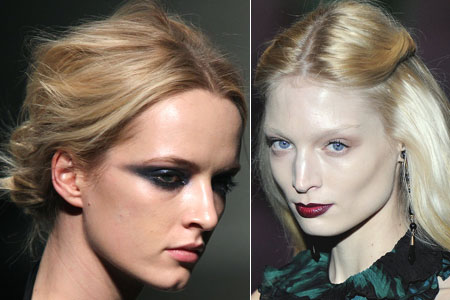 Marni
Silver and purple eye makeup in a combination with the pale skin creates a special contrast with the bluish black hair.
Max Mara
Braided hairstyle and natural makeup. The special emphasis is made on caps.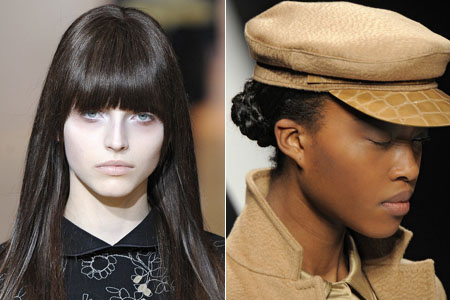 Missoni
Back in the 1990-s: nude makeup and hair with a difference in textures.
Normaluisa
Soft and natural eyebrows and eyes, plus a bright red lipstick.
Moschino
Purple lipstick at the Moschino Cheap & Chic show. "Arrows" and a bow turban are a decent way to decorate the image.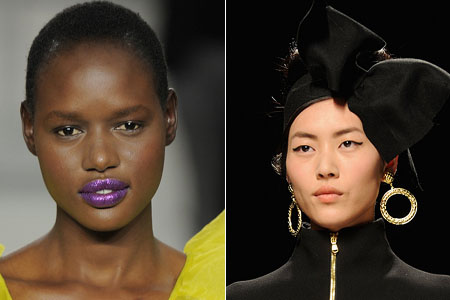 Prada
It is truly revolutionary. A smoky look plus fancy eyebrows.
Pringle of Scotland
Minimum of makeup plus a glossy lipstick.
Roberto Cavalli
Eye makeup a la Mardi Gras: dark green, purple, and red colors.
Versace
A fringe in the style of Amelie, bleached eyebrows and the heavy makeup in the corner of the eye.