Today's master class is for those who have decided to try something interesting in manicure, but do it for the first time. Two of the simplest ideas are color blocking nails.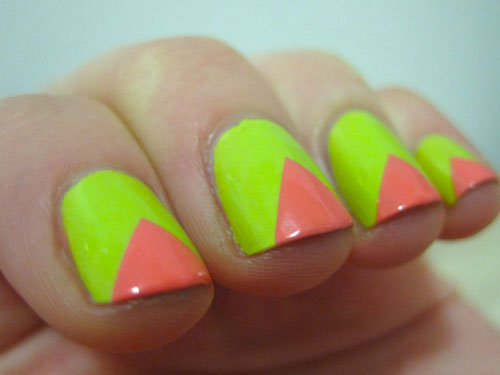 What Will You Need for a Color Blocking Manicure?
You need two colored nail varnishes. Choose bright combinations – it will add spring mood to the image. In addition, you will need an ordinary office tape.
Use the Nail Base
Do not forget also that any nail art should begin and end with a basic protective varnish. Sometimes it can be the same transparent varnish. However, professional nail artists use different varnishes for different purposes. The first one protects the nail from the penetration of harmful substances and pigments, the second – protects from lacquer cracks, scratches and wear. Over time, you will choose the right product for yourself, but you can start with the classic clear nail polish.
Manicure Idea 1. Colorful Wedge
Try a luxurious mix of light green and bright coral.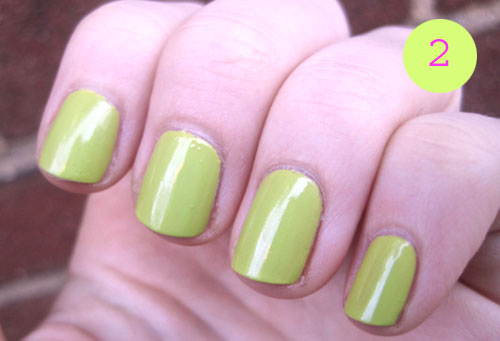 Step 1. Apply basic coverage protecting the nail.
Step 2. Apply two coats of light green nail polish. Each layer should be well dried.
Step 3. Form a triangular "template" of two pieces of tape in the middle of each nail. Press the tape well in the places of the color border, for the coral varnish not to penetrate beyond the edges.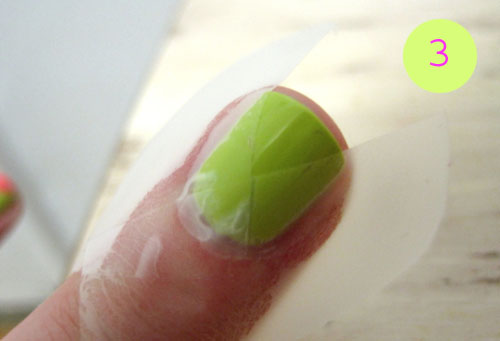 Step 4. Paint a triangle with bright pink or coral polish. Do not be afraid to apply the brush on the tape. Essie nail polish in a bright coral shade of tart deco is used here.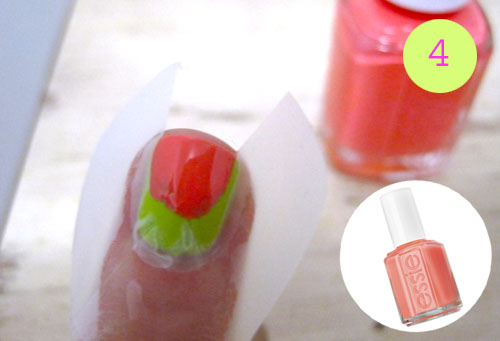 Step 5. Carefully remove the tape. Apply a protective top coat of clear nail polish.
The stylish and simple design is ready!
Manicure Idea 2. Zigzag
If you sew, then you probably have a pair of scissors that make a zigzag edge. If there are no such scissors, you have to try and make such an edge yourself.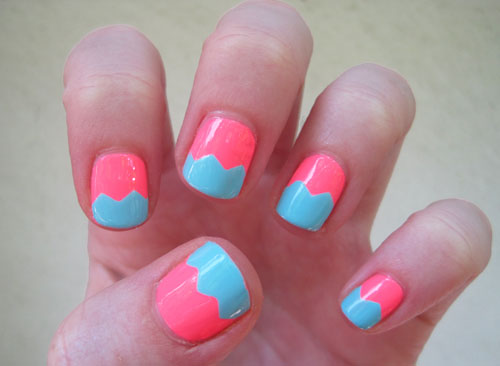 Step 1. We begin, as usual, with a protective layer.
Step 2. Then – two layers of the base shade. Here bright fluorescent fuchsia is used.
Step 3. Cut off a piece of tape on one side with the zigzag scissors to get a jagged edge. The tape is applied on the nail so that the zigzag is approximately in the center of the nail.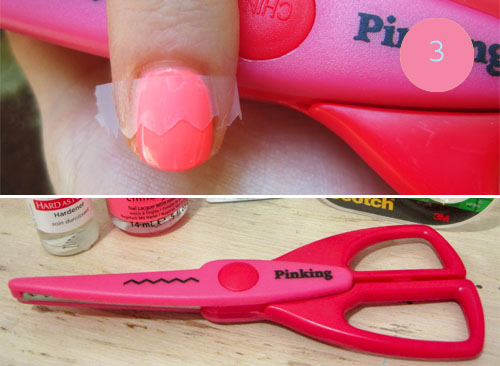 Step 4. Paint the part of the nail, which is without the tape, with a bright blue shade of varnish.
Step 5. Carefully remove the tape and fix nail design with a top layer of protective coating. It is so simple!
Important Nail Art Tip 2
Tip: you can do your nails with a vertical zigzag, as well.