Many will still claim this is a man's world, but over the last few decades the number of women finding success in unusual places has increased dramatically. Gender divides are slowly being torn down and male dominated industries are now being invaded by a host of strong minded and hugely skilled females. In this countdown we've listed five professions where women have gone against the grain and achieved an impressive amount of success.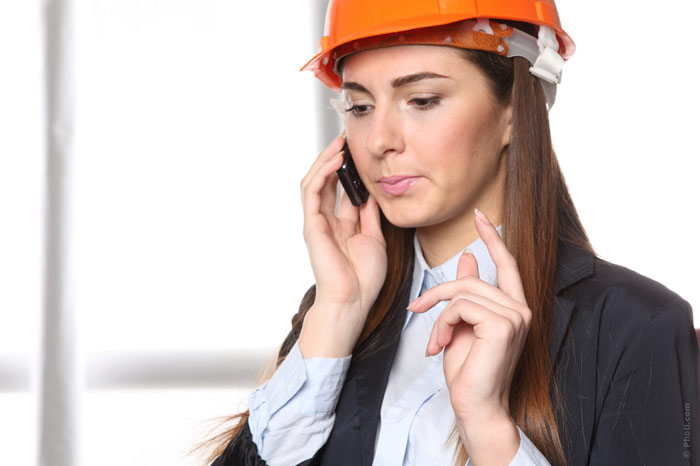 Online Tech
The online tech world doesn't recognize gender in the same way as other industries, but that doesn't mean it's easy for women to break into the same realms as the male counterparts. One woman who has carved out a solid reputation over the last few years is Clara Shih. The CEO and Founder of Hearsay Social, Shih has been named as a pioneer in the social media industry thanks to her business ventures and literary skills.
In 2007, Shih developed her first social business application called Faceforce before penning a York Times-featured bestseller entitled: The Facebook Era: Tapping Online Social Networks to Market, Sell and Innovate.
Since that time Clara has held high-powered roles in a number of major companies, including Microsoft, Google and Starbucks, a company she currently sits on the board of. Thanks to an in-depth knowledge of the internet and her ability to innovate, Shih has become a force in the tech world and won a string of awards, including: FORTUNE's Most Powerful Women Entrepreneurs, Fast Company's Most Influential People in Technology, and Businessweek' Top Young Entrepreneur.
Mixed Martial Arts
When it comes to male dominated activities very few are as testosterone fuelled as combat sports, in particular mixed martial arts (MMA). Since hitting the mainstream just over a decade ago thanks to the UFC, MMA has become one of the biggest sports in the world and, today, one of its biggest stars is a woman.
As unusual as it may seem, one of the leading lights in MMA at the moment is Ronda Rousey, an Olympian with a history of sporting excellence. Since claiming the organization's championship belt for her weight class, Rousey has not only won over fans within the community but gained worldwide acclaim for her skills.
As well as boasting immense physical talent, she has also appeared in Sports Illustrated and a slew of other magazines and appeared in blockbuster films, such as the Expendables alongside Sylvester Stallone and Bruce Willis.
Poker
Poker has long been the reserve of men thanks to its evolution as a game played by cowboys and Texas road gamblers. However, since the game moved out of the smoky backrooms of dark and dingy casinos and into the light of the online world, poker has undergone something of a demographic shift. Although women are still underrepresented in a general sense, the skill of those at the top of the game is in no way lacking in comparison to men.
One of the trailblazers for women's poker in modern times is Vanessa Selbst. A law graduate from Yale, Selbst honed her skills on the Internet before stepping out into the live arena where she's won numerous titles, including a coveted WSOP bracelet, as well as millions of dollars.
This impressive rise to fame has inspired a generation of women to follow in Selbst's footsteps. Making a living in the online arena but often dipping into the live circuit, the likes of Katie Stone, Jennifer Shahade and Katie Dozier are some of the Women in Poker – The Grindettes' Perspective" women competing at the highest levels of the game. Although there are no physical barriers separating males and females in poker, there is a disparity in numbers, but that doesn't mean women are any less talented.
As for other casino games, women are often interested in slots, both online and offline. And they also seem to be pretty lucky in it. If you want to try your luck too, you can play free Starburts slot here.
Mining
It's one of the most physically taxing jobs in the world, but one of the top mining magnates in the world is a woman. Following the footsteps her father, Lang Hancock, Gina Rinehart has been successfully mining Australia's largest iron source and shipping the non-precious metal across the world since the eighties.
Because of iron's status as a scarce commodity in Australia, Rinehart has benefited from hefty royalty payments and that's allowed her to amass a fortune worth billions. With mining interests now stretching across Australia, Rinehart is worth almost $30 billion and makes a staggering $600 every second. As well as succeeding in a male dominated world, Rinehart has also helped boost Australia's economy over the last few years thanks to the billions of dollars in export profits her iron has provided and that's the reason she's seen as a pioneer for women in industry.
Medicine
Science and medicine is a notoriously tough industry to break into whether you're a man or a woman so to see Elizabeth Holmes make a fortune is certainly noteworthy. At the age of just 31, Holmes is the majority shareholder of Theranos, a Silicon Valley company valued at $9 billion.
Providing blood testing facilities using innovative technology, it's been suggested that Theranos could help reduce the cost of keeping American's healthy by a factor of 10 within the next decade. On top of this, Holmes recently applied for FDA approval to create early-detection Ebola test kits. Utilizing her network of high power board members, Henry Kissinger and George Shultz, Holmes is topped to become one of the most important figures in world health which makes her a standout both in terms of women's success and success in an overall sense.
Women breaking into male dominated industries has become increasingly common over the last few decades. Thanks to thinning boundaries between genders, it's now much easier for women to seize opportunities and prove they are just as skilled as their male counterparts.
Judith Howe is a HR consultant and works on a freelance basis. Through working with a varied clientele she has gathered broad experiences. She enjoys sharing her know-how online.