Colored balaclavas, or face-kinis seem to become a very popular thing which is unlikely to send you to prison. At least in China one may feel free to wear them, and a large-scale production has already been organized.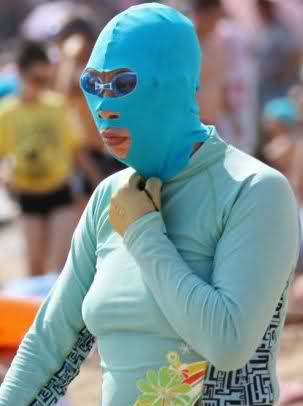 This is not the action in support of the Russian punk band Pussy Riot: the three participants of the band were recently sentenced to two years in prison, which stirred the world media. This is a new beach item – face-kini. It was written about in DailyMail. One can freely appear on the beaches of East China (Shandong Province) in a face-kini without the threat of police persecution. One can buy a face-kini for 15-25 yuan (an equivalent of $1.5-4). There are monochrome models, models with prints of various sizes, and even balaclavas for children.
This is good news for those, who dare to support the girls from Pussy Riot, wearing colorful masks. Now they can explain to the police that they did not want to offend anyone with their appearance, but just protected themselves from harmful sun rays. Face-kini turns out to be a fashion accessory.