When deciding on your new home's design, one of the first things you need to think about is the floor. How to install it& What is the cost? What material should you use? What color to choose? Many decide for the wood because it's natural and, as a result, healthier for everybody living in the house. And here's a reason why wood flooring has remained so popular for such a long time. Dating as far back as the middle ages, wood flooring was a favourable choice for its durability and strength, and proved more homely than traditional stone and brick. As time passed, wood flooring was not only installed for its stability, but for its style also.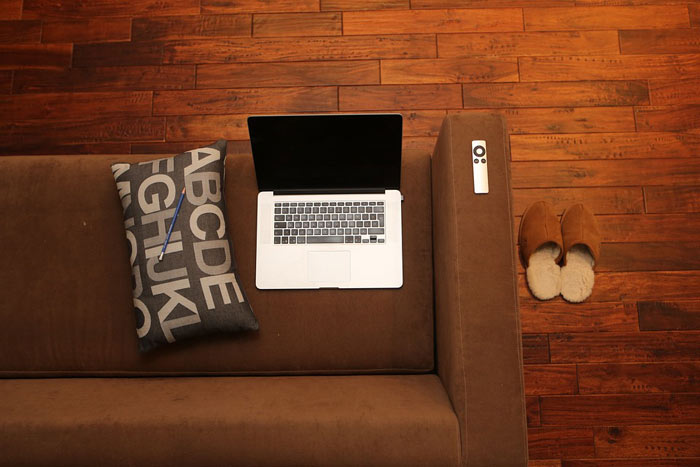 The decorative flair of wood could be found in modest country homes and Parisian palaces alike, and not seem out of place in either. This combination of sturdiness, low cost, and versatility has made wood flooring a household name and is a desirable addition to homes everywhere. In recent years, it's no surprise that modern technology has made wood flooring more accessible, without compromising its iconic look. But with a saturated marketplace, it can be difficult to know which product is best for you and your home.
There are a number of factors that you're likely to bear in mind when deciding on installing new wood flooring. Whether it's the price, the quality, or how easy it is to install, all of these aspects can become overwhelming if you don't know exactly what you're looking for. Before you make the final arrangements for your new flooring, take a minute to get acquainted with the different types of wood on offer. Here is our cheat-sheet to get you started:
Solid Wood
A timeless classic. The look of Solid wood is often the first thing that comes to mind when people think about hardwood flooring. Solid wood flooring is milled from a single piece of timber, before being finished with either oil or lacquer. Modern manufacturing practices consist of controlling the moisture content of the wood before it is made available for purchase. This will prevent the wood from warping in the time between manufacture and installation, however, 100% real woods are still susceptible to movement and shrinkages when placed in areas with extreme conditions.
Consequently, the places in which solid wood flooring can be installed are reasonably limited, and they cannot be fitted above underfloor heating. However, solid wood flooring has an abundance of other benefits. They are low maintenance, can raise the value of your property, and can be sanded and refinished when damaged. This removes the need for reinstallation of new flooring, saving you money in the long run.
Laminate Wood Flooring
For those who are put off by the initial costs of solid wood flooring, laminate has been a long-term favourite. Made from a composition of synthetic layers, laminate flooring consists of a stable backing of HDF, and is topped with a photographic surface layer. This retains the naturalistic aesthetic of natural woods, whilst remaining more resistant to areas of high moisture and humidity. However, there is a good reason for the low price of laminate wood flooring.
This choice of flooring is far less durable than its solid wood counterpart, and cannot be sanded and refinished if it sustains any damage. On the other hand, it is cheap and easy to replace. Fitted with a 'click' installation system, laminate wood flooring can be floated without the need for additional nails and adhesive. As a result, even a DIY amateur could fit their flooring with ease.
Engineered Wood Flooring
With recent leaps in flooring technology, the perfect middle ground between solid and laminate flooring has been achieved. Engineered wood flooring is constructed from a core of compressed timber, and is then finished with a surface wear layer of solid wood veneer. Due to this unique composition, engineered wood flooring has enhanced durability, can be placed above underfloor heating, and remains identical to solid wood floors.
The one downside of this flooring solution is the price-tag. Whilst engineered planks are often cheaper than traditional hardwood, they are still more costly than laminate wood floors. However, with easy installation, and the ability to be sanded and refinished, you are receiving a wood flooring that has the best of both worlds. It's no surprise that engineered wood flooring has seen a rise in popularity over the years.