The burger is a quintessentially American culinary experience, and we wouldn't be surprised if it ranks among the top ten things that foreigners think of when asked about the States. Many restaurants that aren't even especially affiliated with meats and buns will whip you up a burger if you ask for one, and some make it their absolute specialty.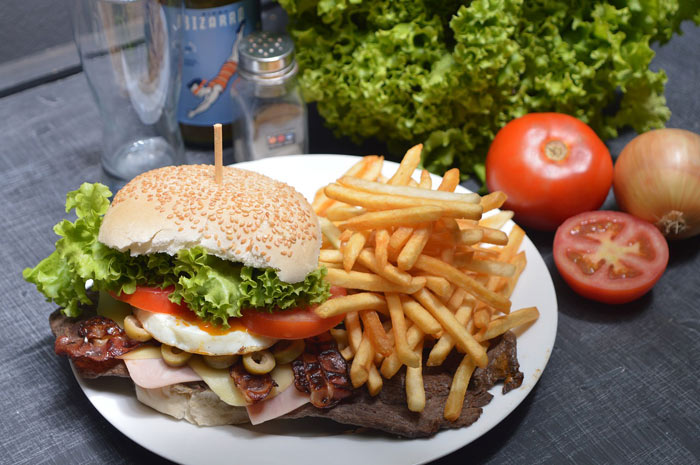 They can't all recreate a Burger King experience, but many can come darn close – and some have unique-enough alternatives that might even replace the original. It is with this in mind that we list the top 5 most popular burger eateries of all time.
1. Wendy's Restaurant and the Quarter-Pounder
Although Wendy's hamburger came on the heels of Burger King and McDonald's, it definitely changed the game with the way the meat was never frozen and cooked to order on the grill in back. Even today, Dave's Single – as it is now called – is a full one-fourth of grass-fed North American ground beef. The bun is fresh, and grilled cheese oozes delectably out from underneath fresh water lettuce, tomatoes, onions and other premium toppings.
There have been additions to this extremely successful burger, in the form of the Dave's Double, Dave's Triple, the Jr. Bacon Cheeseburger line and the Baconator. The latter is less than a decade old and looks to have the staying power of the original beef burger.
2. Five Guys Burger
We first heard of Five Guys out in the Pittsburgh area – basically, it was an East Coast thing. Then, one day, the rave reviews of their delicious assortments of beef, bun, fries, and shakes made the trip across the States to the West Coast, and now you can find them everywhere. A bit pricier than other burgers; but well worth it. The fries are an absolute MUST. They've also got veggie sandwiches and hot dogs of all kinds – which explains why it's grown to be America's biggest burger chain in just over three decades.
3. Burger King
The harbinger of most of the other burgers, Burger King's Whopper is an absolute classic and is still delicious in all of its flame-broiled glory. It's the perfect compromise between price and customizability. Although the company fell on rough times in recent years, the past couple have been quite resurgent – their sales gains have been remarkable.
4. In-and-Out
Just like Five Guys used to be an exclusively East Coast chain, In-and-Out is still a West Coast thing. Their Double-Double Cheeseburger is a mouthful, and the taste simply pops with the addition of the special house sauce – which is reminiscent of muted mayonnaise and ketchup, with melted cheese super-charging the combination.
5. Fatburger
Several more could've made this list as a result of popularity alone, but Fatburger's recent expansion onto the international scene is what pushed it over the edge. Although the burger brand, itself, has been on the scene as one of the more generous and delicious American classics for over half a century, it's really seemed to come into its own in the past few years – which explains the expansion. The patties come in all sizes, are made to order using fresh beef, and are often advertised as a full meal in and of itself.
Some honorable mentions are Steak 'N Shake's burger, and of course McDonald's – the latter for its unmatched influence in the world of burgers and fast food in general.