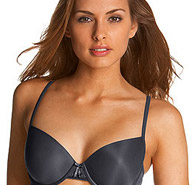 I've already told you about my recent visit to the ESPRIT shop, a land of women's happiness, where I bought three bras. Today I'll tell you about the second one I chose. This one is really practical, it has totally smooth, seamless cups and due to it stays almost invisible under skin-tight clothing. You can wear the straps parallel, crossed over at the back or as halterneck. Look at the picture – this is the color I chose.
Comfortable and Beautiful Bra
Apart from the fact, that this bra is very comfortable, can be worn under a whole range of different tops and dresses and visually adds slightly more volume, it's also very beautiful. It has very nice, delicate tulle side sections and a beautiful lace trim along the lower edge. I like it SO much!

Other Bra Colors Available
You could see above the bra of the color I liked most and purchased. Look below at more colors of this beautiful bra that are available.

There is a red variant, too, which also looks hot: