As St. Valentine's Day begins to loom on the horizon, people are starting to think about what gifts will look good with hearts on them. There are always cards and boxes of sweets, but what if you need something less hackneyed and want your gift to be something practical and tangible? Blancpain is here for those who are very serious about their St. Valentine's Day presents unveiling the Saint Valentin 2011 Watch bearing two hearts.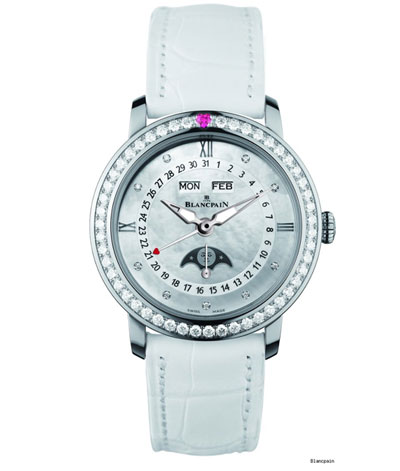 Aside from the St. Valentine insignia, Blancpain's present to true lovers is classic-styled, offering a perfect blend of time-honored time-piece appearance with the sophistication of the new century. The new watch is a white affair in a 35 mm steel case. Blancpain brandmarks are played down, but the ornamental details are played up, what with the bezel studded with 49 diamonds and the dial which is mother-of-pearl bearing yet more diamonds.
The Valentine watch features a subsidiary seconds dial, an annual calendar (day of week, month, date) and a moon phase indicator made as a cute moon face.
Oh yes, the hearts. One of them travels over the face on the point of the date indicator, once a month meeting the other which is secured on the bezel over the figure 12. The 12-o'clock heart is made from a ruby.
The watch box is a beauty in itself. A wooden thing draped in white leather, it carries a white gold heart storing the key to the lock.
The Saint Valentin 2011 Watch measures 34 x 11.05 mm and is to be exhibited at SIHH 2011. There are only 99 watches made, so if you agree that it is a lovely accessory and makes a peerless gift, be quick about it.
Source of the image: Luxist.