Thierry Mugler launches a new line of fragrances Les Parfums de Cuir (skin scents), which includes such fragrances as Angel, Alien, Womanity, and A * Men. The collection will be released in October 2012, and its release will be marked by the 20th anniversary of Thierry Mugler fragrances.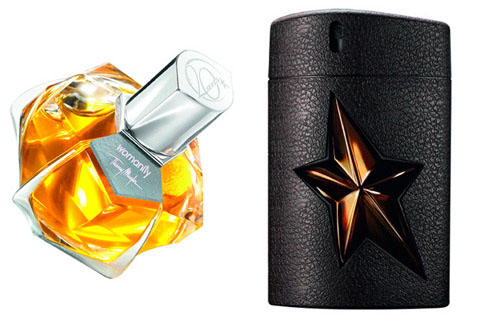 The connoisseurs of Thierry Mugler fragrances certainly recognized the names of their favorite fragrances. Angel, Alien, Womanity, and A * Men. They do exist already, but in the anniversary version they will be enriched with natural extracts of the skin.
The fragrances were made as follows: leather or suede was placed in the original version of the fragrance for 4 weeks.
Angel Les Parfums de Cuir fragrance – the leather version – is accentuated by notes of iris and apricot.
Alien Les Parfums de Cuir becomes even more exciting, enveloping and sensual, thanks to the deep notes of amber, dried fruit, and suede.