The Lebanese designer Elie Saab decided to move scentward two years ago and has been working on his debut scent ever since. He did make his fans wait some, but finally the fragrance is ready and will be launched this summer.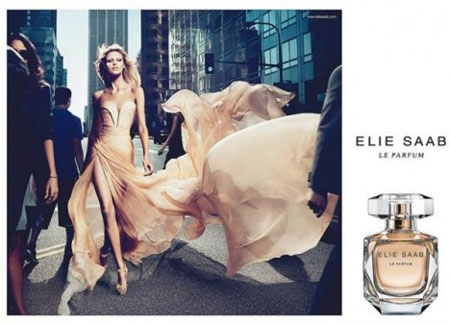 The fragrance with an unostentatious name of Le Parfum was developed by Francis Kurkdjian, who is known for his collaboration with Jean Paul Gaultier over Le Male. Kurkdjian's idea for Saab's debut is an exquisite blend of flower and wood aromas arrived at by mixing jasmine, rose honey, orange blossom, cedar, and patchouli.
Le Parfum will be on sale starting July, available in 30, 50 and 90 ml bottles and a set of body products.
The face for the ad campaign is supermodel Anja Rubik posing on a New York street, maybe not far from the place where she was shot but recently, ensconced with her boyfriend model Sasha Knezevic atop a New York taxi for ads for DKNY's latest fragrance.
Source of the image: Luxuo.