The biography of the most famous blonde continues to draw and intrigue people nearly 50 years after her death. It looks like yet another myth has been busted.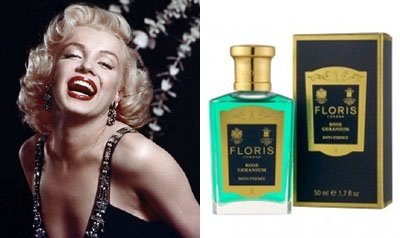 "What do I wear in bed? Only Chanel № 5!" These words of Marilyn's raised the sales of the famous fragrance at an incredible height. The House of Chanel should still be grateful. In the 1950-s, Monroe made an invaluable gift to the brand, having told the press about her favorite fragrance.
However, it is now known that Marilyn used to have another perfume love, though a secret one.
While preparing the exhibition dedicated to the 50th anniversary of Marilyn's death (August 1962), some of the actress' archives have been revealed. The British Floris House has published the documents, indicating that one of their clients named Marilyn Monroe Miller ordered six bottles of eau de toilette Floris Rose Geranium in 1959. Marilyn did it with the help of her personal secretary Dorothy Blass rather than individually.
According to the documents, the perfumes were sent from the Floris shop in London to the client residing in Beverly Hills hotel in California, where Monroe lived during the filming of one of her most popular films "Some Like It Hot."
It remains a mystery if this revelation will help the Floris House reach the heights of fame that Chanel № 5 used to have.