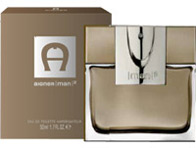 I've recently written about Armani Acqua di Gio fragrance, which I bought for my love. Together with the spray the shop assistant gave me a tester of "Aigner Man 2" fragrance. Well, I was wondering, what it was and how it smelled, besides, I had never heard of this brand before. So, I opened it at home and… was disappointed.
How Aigner Man Smells
This fragrance is said to represent Masculinity per se in some reviews. I'll tell you, what it is in reality. First of all, Aigner Man is sweet. So sweet, that smelling it for a few seconds makes me a little bit sick. Secondly, it's very saturated: tobacco and amber indeed make a strong impression and stays for a long time, but I wish it didn't – you can't get rid of it. I don't like it. Neither does my man. It smells like a fragrance for a gigolo. Anyway, it's not absolutely unbearable or nasty. I've met much worse smelling fragrances. It's recommended for those who like their man to smell sweet. As for me, I find it more a unisex aroma, which has nothing to do with "Masculinity per se". A perfect appetite suppressant at most.