It is unlikely that the name of David Gandy instantly draws in our memory the face and the merit list of the British male model, but we all remember the famous Dolce & Gabbana Light Blue ad campaign, where David holds a girl in a snow-white bikini against the azure of the sky. We can also recollect the images of a handsome tanned muscular man, who leans against the wall staring into the distance with a languid look and demonstrating white boxers of the same brand.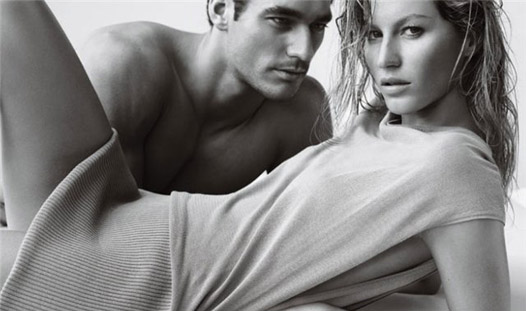 Please love and favor! David Gandy, besides a beautiful face and a gorgeous body, has something else to be proud of – his own opinion! He graciously shared it with reporters, describing the difficulties of a professional male model's way to fame. The source of these difficulties is nobody else than female colleagues.
You see it. I don't get on with Gisele. We don't see eye to eye, we argue and we don't enjoy working with each other (they have shot three campaigns together). Like I say, we are very privileged but what we do isn't saving lives, it isn't brain surgery. And I'm not going to get on with anyone who takes it for granted or thinks they're someone special. My advice to any young model is very simple. Just don't believe your own hype.
In fact, such a shift to the private is the result of female models' mad success. And this is a challenge for all male models like Gandy. Of course! Guys in the modeling business as compared to women have lower fees and less honor. Besides, they do not fly first class.
David complained of sex discrimination in the modeling business:
A part of me does think, "Why is this? What can I do about it? Why is it that the female models get paid four times as much as a male model for a campaign – a campaign they are both in … But it's just a fact in this industry that the women earn more than the men. While the top female models fly first class or business class, the guys fly economy.
A woman is not the only 'enemy' for male models. Famous representatives of the same sex make up another threat.
I wish him [David Beckham], Jude Law and Brad Pitt would stick to the day jobs. It's hard enough for male models as it is, so give us a chance, boys. Butt out.
The fair and honest cry of David's soul is a surprise for fashion business. Celebs do often appear in advertisements and hinder the success of the professional models who are yet not known in the whole world.