What do we value most in clothes, in addition to their attractive look? Of course, it is their ability to match the rest of the wardrobe and the possibility to create images for different situations. One of such prominent items of women's clothing is a good old cardigan – knitted buttoned jacket. How much do you know about the possibilities that it carries? Let us check the existing knowledge and acquire some new.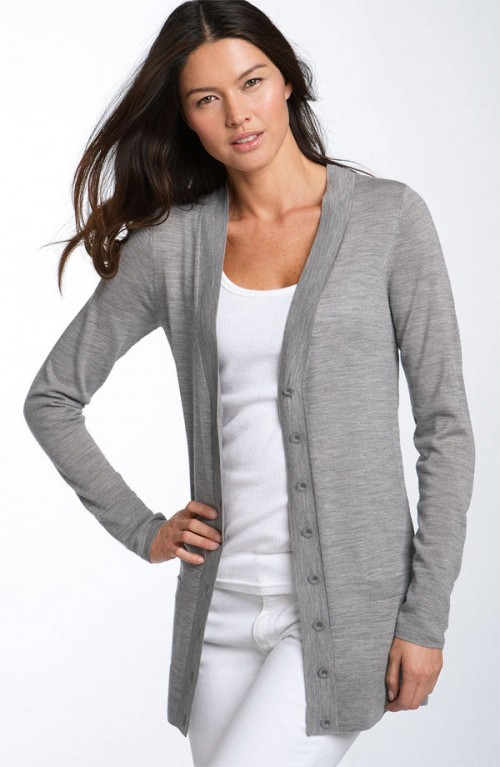 Facts about cardigan
A must-have of any modern woman's wardrobe, a cardigan, has a rich history. Since XIII century, it has faithfully served Europeans as a warm piece of clothing. It received its name only in the middle of the XIX century, when used in British soldiers' uniform to make it warmer. Actually, that is why the cardigan looks like it does: close-fitting, with a deep V-neck, buttoned and collarless.
Having survived the peak of popularity in the 50s of the last century, today the cardigan is in trend again. Women value it for practicality, versatility, and comfort, thanks to soft fabrics and free tailoring. The most popular materials are jersey, wool, cashmere, alpaca. However, modern designers sometimes use fur (artificial and natural), leather, suede, silk, chiffon, jewelry and sequins as decor.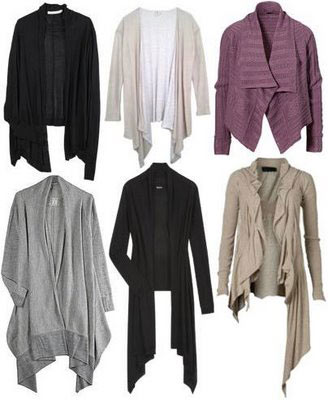 What matches a cardigan
Depending on the material, you should follow these recommendations:
a jersey cardigan is almost universal: it looks appropriate with all sorts of tops, especially linen and chiffon ones, as well as dresses, jeans and shorts, floor-length sundresses and all types of skirts;
a knitted item can be combined with turtlenecks, tops, straight skirts, classic pants, jeans, leggings. Worn with the latter, a cardigan must reach below the buttocks line;
a classic neutral cashmere or alpaca cardigan is similar to a jacket and looks appropriate in the office. Combine it with a white shirt and a colored blouse, a pencil skirt, pants or a tube dress;
a shortened bolero cardigan, especially with a 3/4 sleeve, is a perfect complement to an evening outfit and will accentuate the waistline.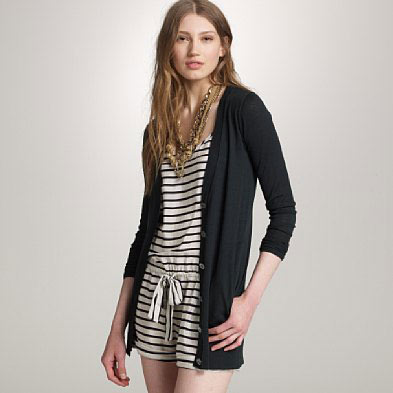 What else you should know:
when you pick a T-shirt or a turtleneck to match a classic cardigan, you can achieve a stylish look by combining contrasting colors: for example, brown – dark blue, purple – mustard etc.;
a brightly colored cardigan looks best with a white skirt or pants, while a soft-colored item is worn with bright things. Such an approach helps avoid excessive vividness and possible aggression in clothes;
a combination of a long-sleeved turtleneck and a sleeveless/short-sleeved cardigan also looks stylish;
it is not necessary to button up the cardigan from top to bottom. You can button only the top two buttons or the one in the center. That looks particularly stylish with a strap or belt.
If you are only planning to buy a cardigan and cannot select a suitable model, please note our final advice. The most practical option is the classic model in white, black or gray, made of fine wool, without any decoration. A great match for any clothes, it can help you create a variety of ensembles and complete any image, and you are will feel comfortable, cozy, and attractive in it.