Some of ladies who mean to be belles of this year's Christmas parties and kept racking their brains over how to be dressed to kill – and those who just want their assets appreciated – will scream at the possibility to don the coming-in-time-for-Christmas bra from Wonderbra that offers that extra bit of boldness that can make all the difference! Now you can bet on displaying a deeper cleavage than every other woman around (and incidentally following the example set by Jennifer Lopez, whose daring neckline has caused some comments, and celebrities like Jennifer Aniston, Pippa Middleton, and Gwyneth Paltrow).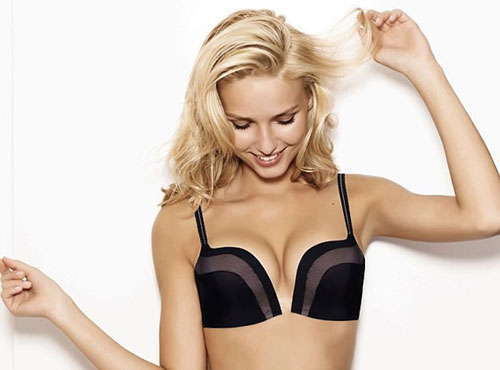 Check out Wonderbra's latest wonder entitled the Ultimate Plunge Bra on billboards presented by model Adriana Cernanova to be seen life-size alongside London's Battersea Power Station. The slogan runs "Hello Boys"!
The Ultimate Plunge makes a perfect push-up bra that doesn't snag on supporting the breasts at the same time allowing for a deal more open gowns. It can be obtained at House of Fraser, Debenhams, and John Lewis in size range from 32A to 38DD at the price of $50 (£32).