Since everyone will be invited to Bella Swan's wedding in the fourth part of the famous vampire drama, Breaking Dawn, it's as good reason as any to discuss her wedding attire. All the more so since the names summoned in by the guys from InStyle.com belong to the highest stratum in the world of fashion!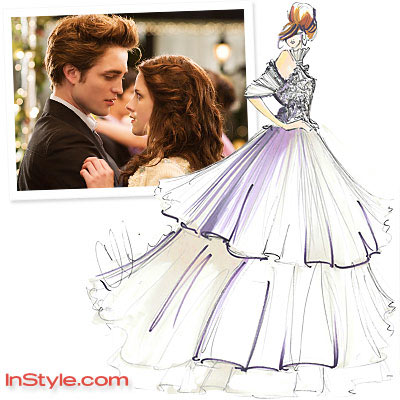 And man, didn't they come up?
Luhillier's designers see Bella in a calf-length veil, a row of buttons running down the back, lace adorning her neck and shoulders, and a waist tie for a final flourish.
Project Runway's Siriano are thinking along less romantic lines – they intend to impress with a magnificent skirt and a fitted bodice completed with a latest word in wraps.
We're going to have a designer's delight added to the usual Twilight wonders with the occasion. Kristen Stewart who plays Bella must be looking forward to it!
Source of the image: instyle.com.