For 35 years, Swarovski has had close creative collaboration with James Bond. On the occasion of the release of the eagerly awaited movie Skyfall, the company has released a collection of Swarovski jewelry, inspired by another movie of the Bond series.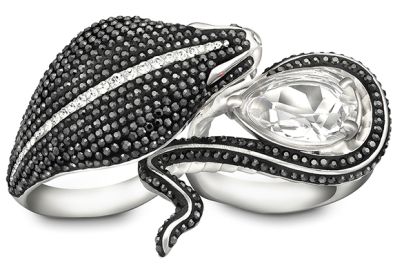 British-born designer Stephen Webster, one of the most famous jewelry designers of our time, has created four exclusive lines for Swarovski, which absorbed all the magic of the latest adventures of James Bond on the broad screen.
French actress Berenice Marlohe, who performed the role of Severine, received an honorable duty to create an important link to the seductive and charming world of Bond on screen, demonstrating the carefully selected jewelry from the four lines inspired by the film.
In the Love Knot line, Stephen Webster used the eternal symbol of devotion to represent the strong ties of love.
The Black Bamboo line brings to life the elegant design, inspired by bamboo leaves and branches.
A ring of a very original shape, the key element of the Heat Seeker line, is sure to attract everyone's attention.
A mysterious and alluring snake is the theme of the Queen Cobra line.
The Skyfall collection, which appeared in stores in mid-October 2012, represents the whole atmosphere of the world of James Bond and his beautiful girls.
The collection will be presented only in selected Swarovski stores.