Dressing up the breasts that are larger than average can be quite a problem! You tend to look too sexy, which you may not want that often.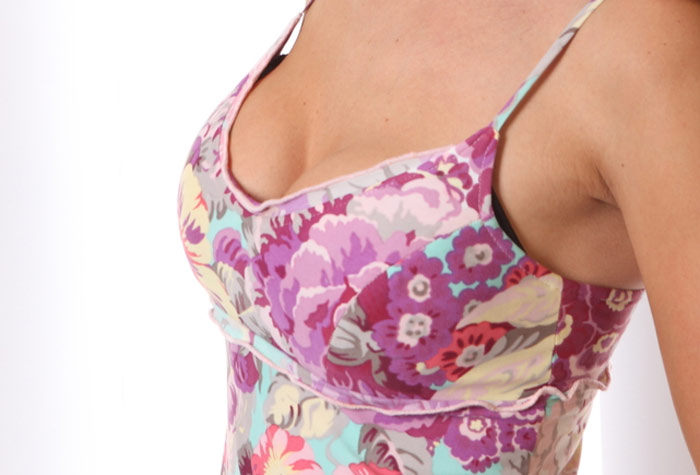 Being a dream of many women, big boobs present certain difficulties in the fashion line, for many garments are designed for lesser endowed ladies who don't look as if their cleavage is ready to burst open at any moment. So, something must be done for your attire not to be too outspoken all the time.
Yet every problem has a solution, and here are fashion experts from Navabi who are ready to share some secrets that will ease your fashion worries. You don't have to go about like Christina Aguilera strutting the stage. OK, let the pros lay out a plan to do justice to your boobs without overplaying them.
Choosing dresses
First, the cleavage. Here your choice hangs on how bold you want to be. Low V-necklines will serve you well at any time of day, you know. But maybe you'd like to tone down the impact a bit. Then go for high-cut dresses, preferably narrow ones which will hug your body to advantage, it is a very appealing style in a different way.
Another gracefully feminine model will be an asymmetrically cut gown with a strap that covers the assets but gives you an enviable silhouette.
For a more modest effect pick up something loose – but not too loose, to avoid looking grossly outsized. Take care not to come out fleshier than you really are.
Choosing blouses
To begin with, look out for simply styled blouses. Remember, decorations like frills and ruffles will only enhance your bust. Also, block colors will be preferable.
Invest in loose, slightly tailored fit items, probably with necklines that go as high as the chin, they can hide some of your bust size. On the other hand, you can easily play it up by unbuttoning the top and thus attracting eyes to travel down the V.
Choosing tops
Go for tops of the tight-fitting variety, but be careful it does not push up your assets or cut in. A V-necklace will always be preferable to a round one. If your V-neck is narrow, your body and neck will look longer and your cleavage more appetizing.
Choosing coats
For minimizing your chest with a coat, you take a single breasted one – double breasted articles tend to augment the front, try and see for yourself, but better refrain from purchasing.
Consider a jumpsuit
This is a piece of clothes that is a good friend to large-chested ladies. It comes in a wide range of designs, with different length sleeves, straps or no straps, any kind will do. Darker colors are more favorable, so are narrow V-necks, and choose the sleeves in accordance with your wish (or un-wish) to show your arms. Add in an impressive necklace and high heels (nude are better), and you're set to conquer!
Suitable beachwear is essential
Of course you know that you get a black swimsuit and not a bright one, but why leave it so simple? Let's get further into the matter of choosing.
Swimsuits and swim tops are supposed to offer reliable support, so you are likely to get more comfort and fixture if the straps are wide. Strapless stuff and bandeau tops are definitely not your thing at all.
For extra support look out for molded cup tops or ones fitted with wire. Besides, they will make your waist look thinner.
Again, deep and narrow necklines, as well as V-cuts, are advisable; they will play down your boobs and benefit your shoulders too.
What clothes you ought to give a wide berth to
Now we've laid down the big-boob rules let's look and see what other things should be considered, this times ones which could make you seem bustier than you are. Stay away from:
wide tops, especially if the fabric flows easily;
clothes with horizontal stripes, tops with halter necks, baby-doll dresses; other enlarging factors include sequined tops and empire designs;
clothes from satin and thick fabrics (velvet, chunky knit, and the like);
such accessories as brooches and short necklaces also tend to accentuate the bosom.
And to round it off here are some extra bits from Navabi pros. Give these style hints a try to see what they will do to your sizable boobs.
You can always make use of a minimizer bra whose construction and cut are designed to diminish the bust size. If it gets you down a cup, you can wear clothes that are unadvisable otherwise.
Get the right soft fabric (cotton, jersey or cashmere). They may be a little costlier, but you are sure to win in quality and get a perfect fit.
Flowing scarves artfully draped around your shoulders serve to disguise the large front.
You can do something through a judicial use of accessories. Long necklaces (luckily in nowadays) make the eye slide along down past the breasts, creating an effective distraction.