An eternity seems to have passed since shoes with very thin, triangular pointed toes last appeared on the catwalk. For a few seasons in a row, the fashion designers unanimously favored shoes with rounded, or even square toes.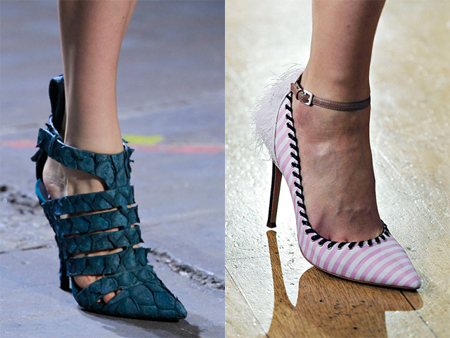 However, the new spring-summer 2012 season marks the triumphant comeback of sharp–nosed shoes to the catwalk – thanks to the most famous designers and brands, such as Marc Jacobs, who has complemented his collection for Louis Vuitton with such footwear, and Hollywood stars, who certainly were the first to wear the trendy shoes.
The fact that fashion designers were trying to get the sharp-nosed shoes back became widely known several months ago after another season of the Fashion Weeks. Last spring showed that Hollywood celebrities and concurrently the main trend-
setters tended to fully support the new trend. It has been a long time since Hollywood last saw such an amount of sharp-nosed shoes. The recognized fashion-lovers with a good taste, including Gwyneth Paltrow, Sarah Jessica Parker, and Rihanna, have recently appeared at the social events exclusively in evening shoes with pointed toes.