"Italian Asia" – that is the way we would describe a new SS 2013 collection by Miuccia Prada, if we had the right to use only a few words.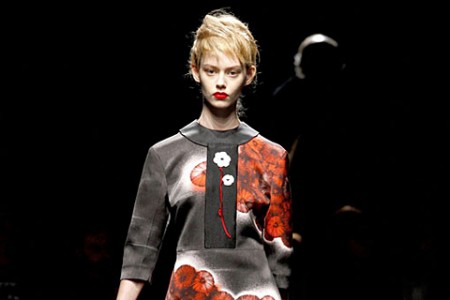 However, the designer forced us to expand the fashion vocabulary: the author of the collection decorated the catwalk with black columns, and her models, looking as beautiful geisha girls, were wearing traditional Asian "okobo" platforms and Hanfu dresses, decorated with wide "obi" belts.
To better understand the names of the items of oriental clothes, let us turn to the catwalk images. Square silhouettes of the tops, kimono, long shorts and mini-skirts, made of the hard silk and shiny satin by the principle of origami, were decorated with graphical floral prints and applications, which became the main artistic theme against the background of the main palette colors – black and gray.
The images were completed with plastic sunglasses, furry clutches and square bags – probably with Japanese dictionaries inside!