The famous watch maker, Piaget, topped other watch makers by creating the most expensive watch ever with $3.5 million price tag.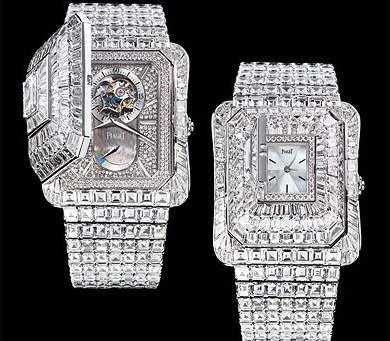 Such exuberant price of Piaget Emperador Temple Diamonds accounts for the use of hundreds of diamonds for the watch's design.
With the dazzle of diamonds, Piaget Emperador Temple Diamonds look more like jewelry rather than time measuring device.  A total of 1211 diamonds of different cuts are used to embellish the watch. White pearl dial is encrusted with 173 diamonds, then additional 320 stones adorn luxurious bracelet while 690 diamonds decorate the case. Dazzling case of Piaget Emperador Temple Diamonds contains an intricate watch mechanism, a tourbillion to produce the highest precision.
Source of the image: luxist.com.