Oscar 2013 ceremony has already been held, giving Jessica Chastain, Jennifer Garner, Zoe Saldana, Halle Berry and other stars a wonderful opportunity to present their outfits.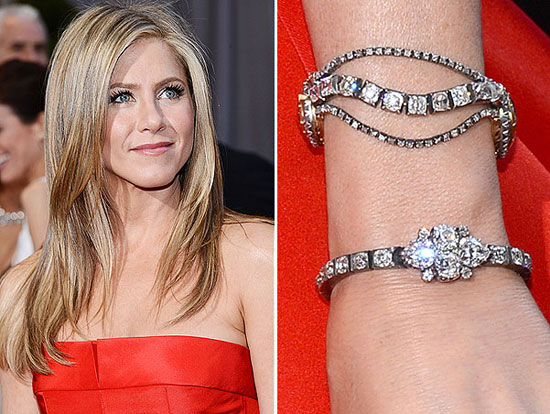 Their evening looks are already divided into the "best" and "worst", and now it is time to consider each image from the red carpet in detail. It is not surprising when people say that you can both save and destroy any stylist's idea with the help of accessories.
This year's dresses could be called traditional rather than innovative, but the celebrities spared no money for the unusual accessories and details, preferring diamonds, as "girls' best friends", in different variations.
Thus, the most memorable accents at the Oscar 2013 ceremony were:
Earrings
Up hairstyles give an excellent opportunity to use your imagination when choosing earrings: this year, Hollywood ladies preferred teardrop ornaments with inlays and exquisite "interplay" of colors: gold and black, crimson and scarlet, silver and blue. But there were miniature earrings as well – they were gleaming gently in the spotlight.
Rings
In addition to earrings, the red carpet guests chose rings: as a rule, those were massive rings – but each of them had its own character. There was a graceful snake coiled around Zoe Saldana's finger; a mysterious moonstone decorated Jenna Dewan-Tatum's image, and an entire jewelry "army" of thin rings shimmered on Halle Berry's thin fingers.
Bracelets
Elegant wrists of the beautiful celebrities were shining just as the Hollywood smiles. Their hands, too, were decorated with noble colors: gold and silver. The jewelry palette was complemented with "warm" amber and pale crimson flowers (blossoming on the wrist of oriental beauty Fan Bingbing), while Melissa McCarthy preferred to adorn the sleeves of her dress with appliques instead of wearing a bracelet.
Necklaces
Evening gowns are yet another reason to tempt the audience with a deep neckline, which leaves enough space for luxurious necklaces – Jennifer Garner, Maria Menounos, Anne Hathaway and other actresses chose diamond "threads" as the main focus of their image.
Purses
A night out literally would not be possible without a tiny clutch – this tiny handbag, which is useless at first glance, has an important mission helping the characters of gossip columns highlight the originality of their image and add some spicy "sharpness" even to the classic outfit.
Sequins, inlays, crystals, broken geometry and sleek chic – these elements are only a partial "palette" of handbags from the Oscar red carpet.
The Oscar Shoes
And finally, there is not a single Hollywood Cinderella (in fact, the story of each of our characters is reminiscent of the famous fairy tale and its plot) who would manage without a pair of shoes. Choosing the shoes for the Oscar ceremony, the actresses were unanimous and selected feminine open-toe sandals.