Unless it gets all eyes on the bride, the wedding dress definitely fails to serve its purpose. While it's highly recommendable that a wedding dress brings out the bride's individuality, a little knowledge about the latest trends never harmed anybody. 2018 brings with it a range of fresh, modern and never seen before trends with influences all around the globe.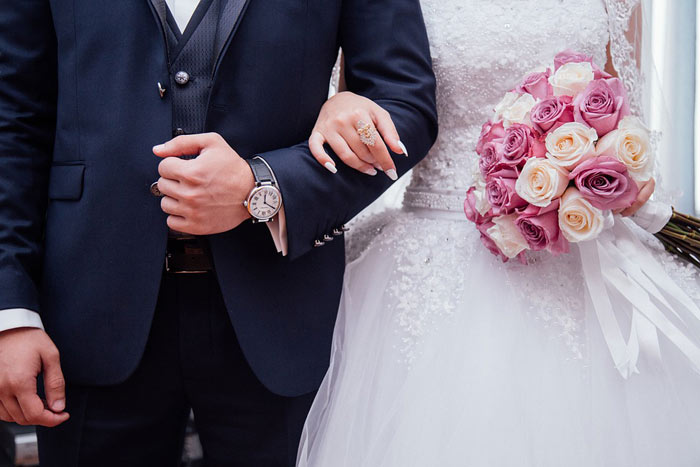 Princess capes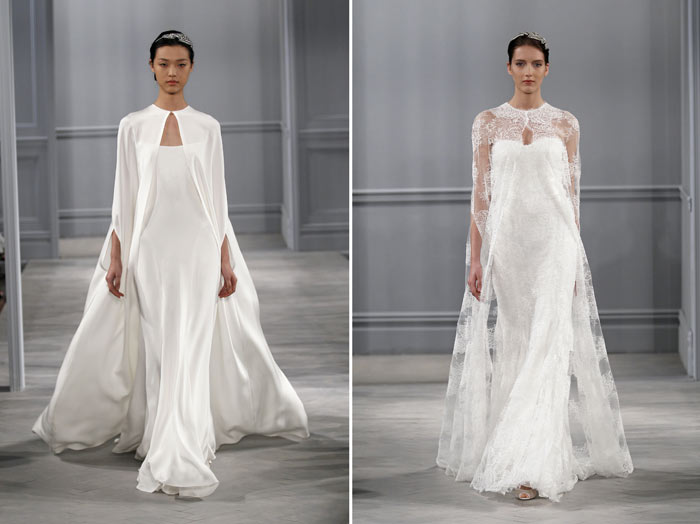 The bridal veil is replaced by a chic cape, and it's one of the most interesting wedding dress trends of 2018. Bridal fashion weeks, all over the world are seeing more and more wedding dress designers experimenting with long, mid or mini capes – a trend that hasn't been in vogue before. The hooded cloak by Ellie Saab and the extravagant bejewelled high-necked cape by Ines de Santo are two examples of princess capes that have stirred a storm in the wedding dress trends of 2018. A beautiful, elegant and confident choice, capes are perfect for indoor or winter weddings.
Separates and layers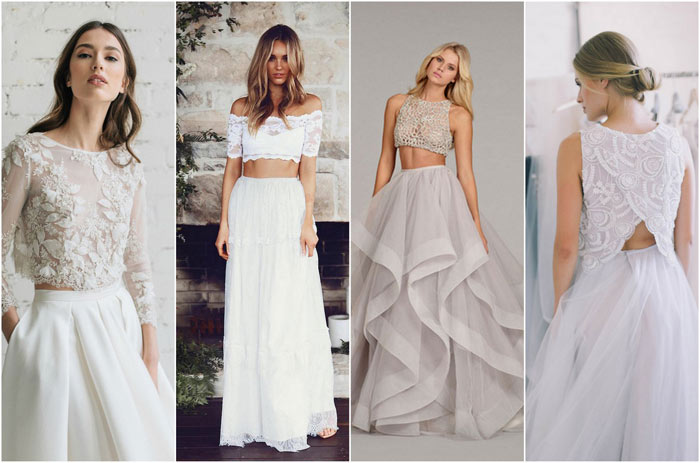 This may not be a never-seen-before trend but it's definitely back in fashion. One of the latest trends of Fall 2018, separates and layers are not just a cool, out-of-the-box option but also give room for a lot of mix and match. The possibilities are endless when it comes to trying out combinations between the bottom and the top. A hand-beaded tulle on the top matched with a flowy layered skirt can work wonders for a wedding dress. The layers can also be stitched in swirls to make the look just a little more ethereal.
Nature inspired adornments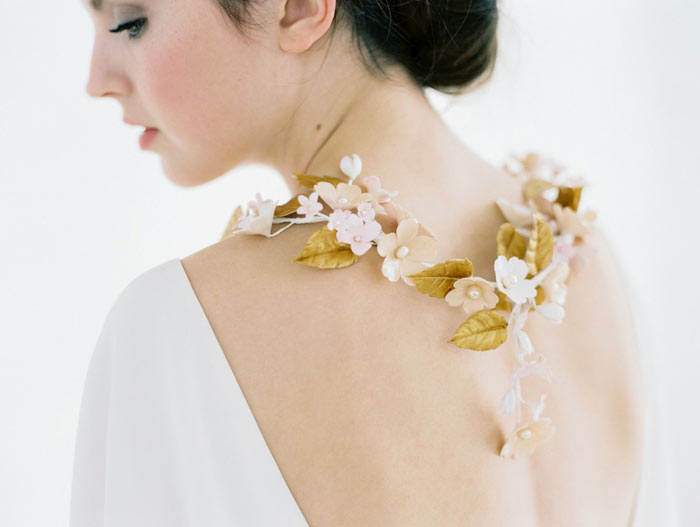 Looks like Fall 2018 is really inspired by the season of blooms because the surreal natural leitmotifs of nature seem to be a major inspiration on the wedding dress trends of 2018. Imagine the floral patterns in forms of 3D applique on your wedding dress – vivid colours, sequined embellishments, intricate embroidery. You can't go wrong if you go with the nature's way. Israeli designers, Berta and Leila Rose who rocked the ramps of Fall 2018 with their nature-inspired adornments would agree.
Detached Sleeves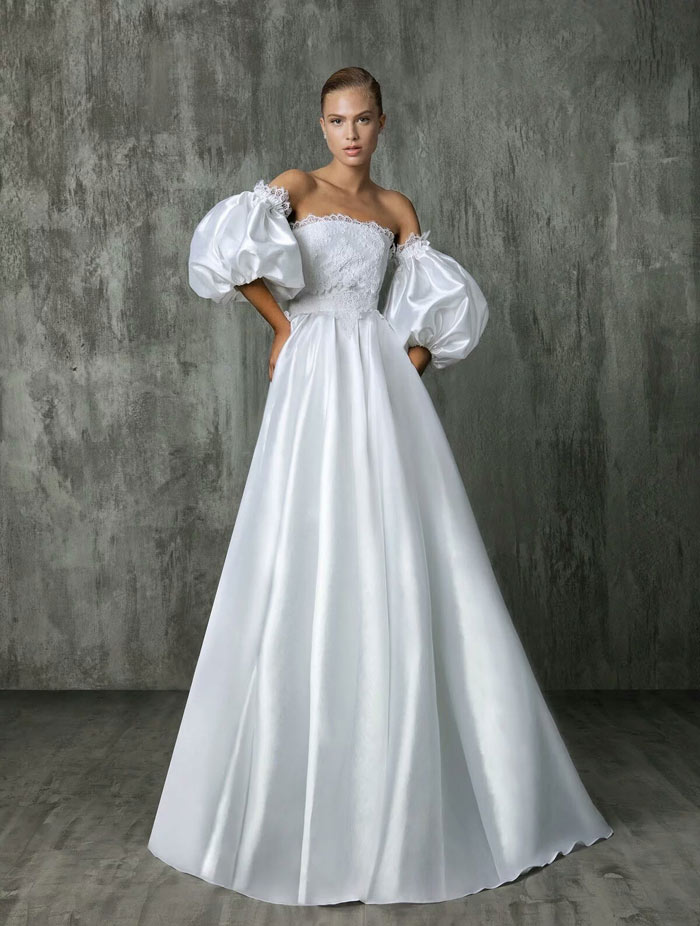 This is not exactly your regular off-shoulder wedding gown – it's more like an evolution of the same. While this trend comes across as a graceful off-shoulder dress with slinky or lacy designs, they are actually strapless dresses. One of the most popular trends in the ramps this season, it's a welcome change from the traditional long-sleeved gowns. Cold shoulder, bell sleeves, three quarters were among the most well-received styles this season. Full coverage, fluttery or illusion – take your pick. Looks like it's time to wear your heart on your sleeve.
Mid-length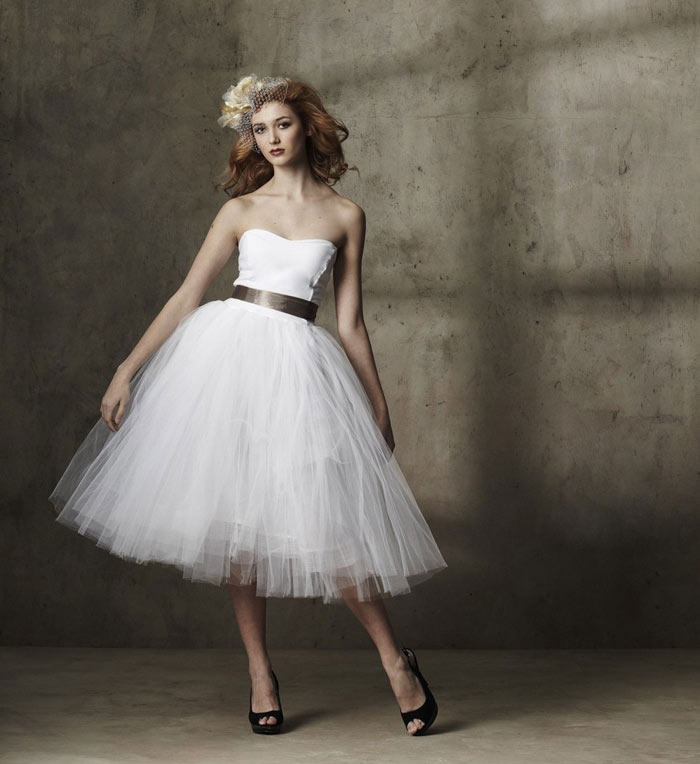 Classic styles have a way of coming back into trends every now and then. The mid-length wedding dress style, made immortal by the legendary Audrey Hepburn in the 1950s has made its way back to vogue in the ramps of Fall 2018. The mid-calf-length dress comes with a terrific vintage feel that's ideal for brides who want to keep it classy on the big day. Also known as the Tea-length wedding dress, the trend is not formal and lets you keep your hair down even on your wedding day. Match it with a tulle petticoat and you're all set to look the prettiest at the altar.
Feathers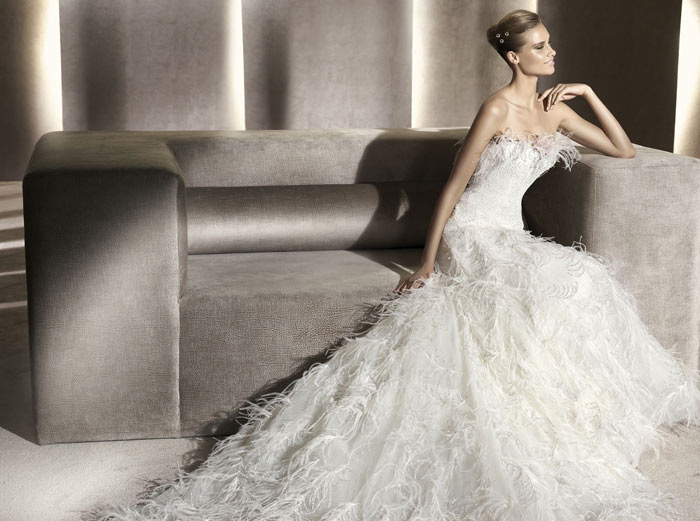 Feather details have been on the trend for a few seasons lately, but wispy feathers, like that of an ostrich is a fresh wave. Even the most classic styles can be given a very modern, bold touch with feathers. One of the finest options is caped feather accents popularised by Yolan Chris. It features feathers along with florals and corals. Strapless feathered gowns, mini feathered wedding dresses, flashy gowns with cutouts of ostrich feathers are also some of the most exquisite variations topping the trends this season. The top to bottom feathered gown designed by Naeem Khan is one of the boldest variations of this trend.
Wedding dress with bows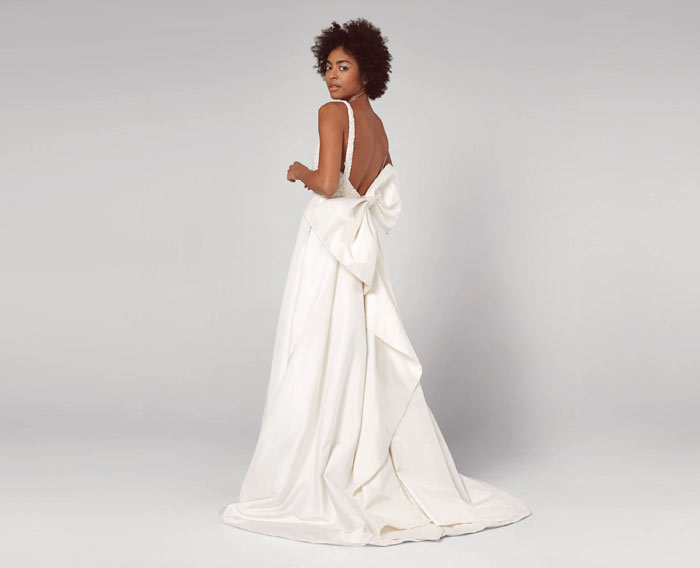 This is one of the most over-the-top feminine wedding dress styles but it's classy no doubt. It has taken the Fall 2018 ramps like a storm and the fashion world can't seem to get enough of it. A bow sash accentuating the waist is a beautiful twist to the new trend. A welcome change from traditional wedding dresses. The best way to carry the bow is to keep the accessories to the minimum and let the bow make the statement. Besides subtle waist-tied accents, oversized sculptural bow-backs are also in trend. It's ultra-feminine, ultra-chic and gives you the right amount of whimsical fashion statement.
Streamer sleeves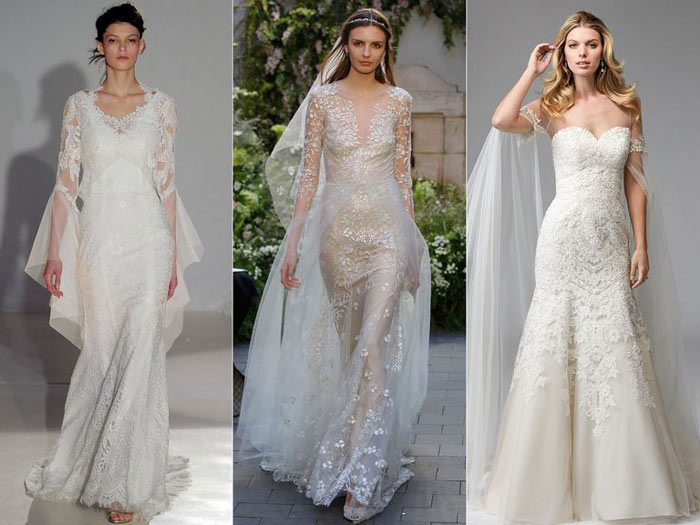 Streamer sleeves are generally long sleeves made of tulle that split into streamers. Not only do they make the wedding dress gorgeous, they also add a movement to the gown that compels all eyes to be set on the bride. A lacey sheath gown along with details of fluttery streamer or a simple yet sultry fit and flare dress can be a great wedding dress any day. Streamer sleeves are most appropriate for beach weddings. It adds to the whimsy of an elegant yet modern wedding dress. A court-length trail, a bedazzled belt and you have the right amount of spunk and sophistication.
Deep V necklines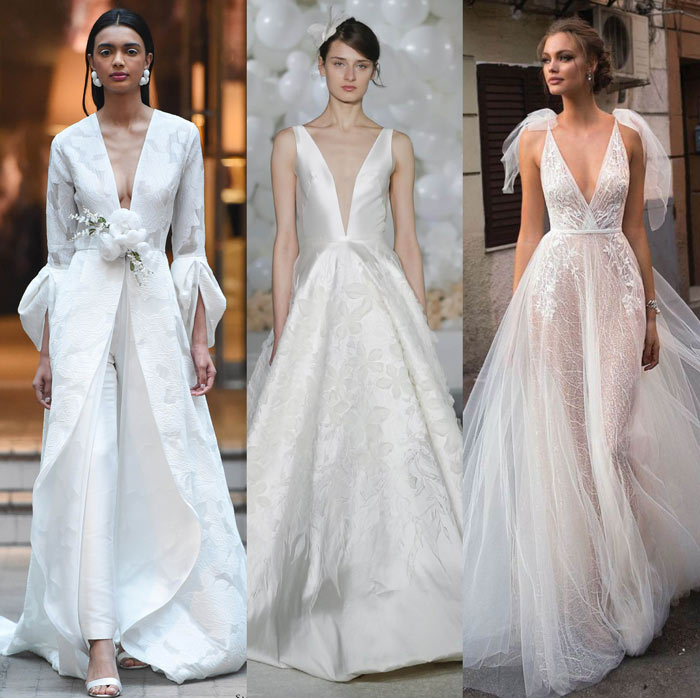 The deep V neck wedding dress can make any bride look like she has come straight out of a fashion ramp no matter what her body type is. One of the best things about V necks is that they flatter the upper body frame. Go for a plunging V neck with a floral applique or a scalloped lace and you have the most ultra-feminine look. The design is ideal to get that beautiful, sexy and curvy silhouette. A rage on the Fall 2018 trends, the V neck also allows free body movement so that a bride may dance her heart out all night. Matched with an A-line skirt, this is one of the most sensual options to go with.
High collars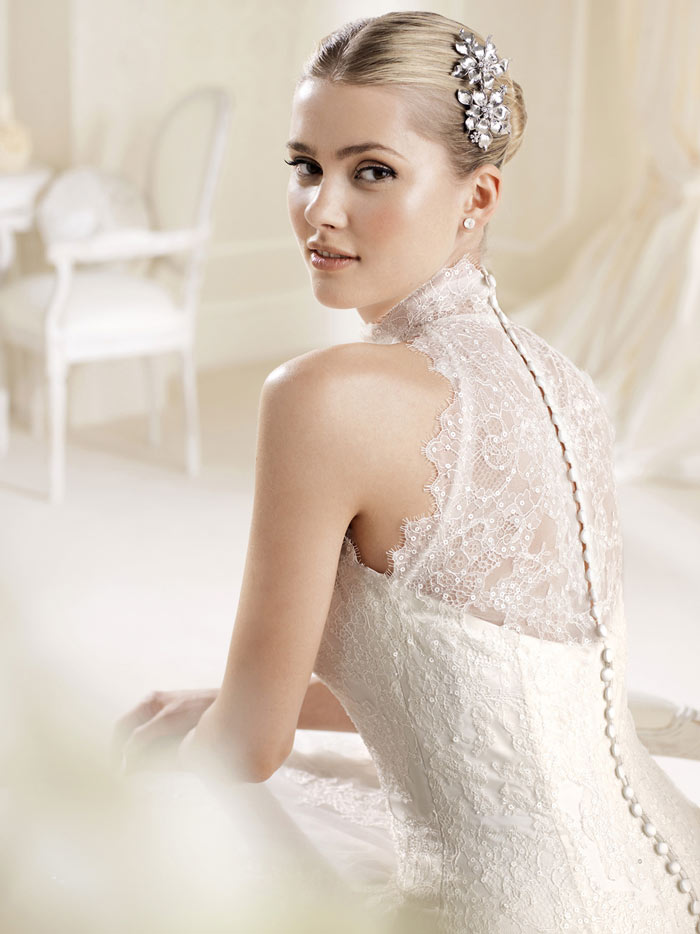 High collared wedding dresses mean serious fashion. A regal feel with scalloped lace or a precisely modern look with a satin-made dress – high collars is quite the vogue this season. One of the simplest yet effective options is the beautiful Martina Liana high neck wedding gown that comes with long sleeves that leaves you feeling elegant and graceful. The buttoned-up trend goes very well with statement earrings and chic necklaces, keeping it subtle and absolutely beautiful. For those who are not into too many sparkles, or a flashy wedding dress, this is the best design to be adorned with.
Power suits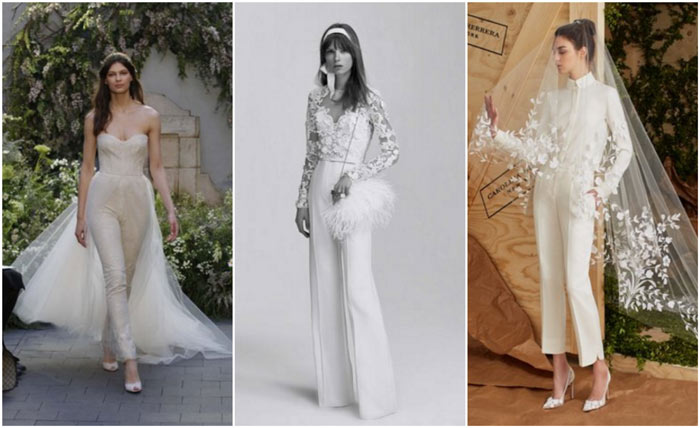 This may come across as unusual but this is 2018 and today's brides are more experimental than ever before. Power suits have been one of the most unexpected trends in wedding dresses this season and for all good reasons. From sleek white blazers teamed with crisp trousers to embellished jumpsuits, power suits are making a powerful statement at the altars this season. Designers like Monique Lhuilier, Lela Rose, Sachin and Babi, and Naeem Khan have made the perfect use of this trend this season.
The wedding day is the most special day of a girl's life and it's only natural to spend a lot of thought into choosing the perfect dress that will make her look like a dream on the wedding photo albums for the rest of her life.