Krizia Robustella has become the winner of the new season of 080 Barcelona Fashion Week in two categories (The Best Men and Women Collections). The lucky girl will not only get the honorary title of "the Best of the Best" and appear on the pages of the most fashionable magazines, but will also provide her next collection with a truly cloudless future due to the prize of 20,000 euros.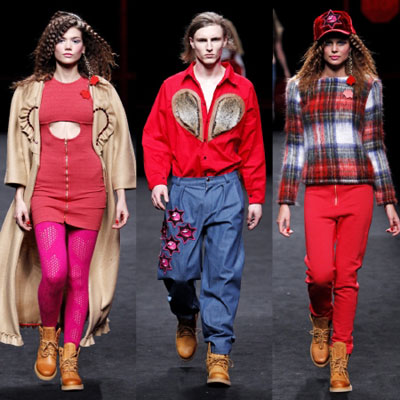 The designer specializes in bright original clothing in the style of sports luxury. Her motto is comfort, style, sexuality, and sense of humor. Fall-Winter 2011-2012 Collection is devoted to young people who are not afraid of expressing themselves through clothing, who spend white nights in modern metropolitan areas not losing their childish immediacy, the joy of life, and the sense of style.
Cutting and color are borrowed from the 1980-s and early 1990-s with the images resembling the characters of Hollywood movies. Krizia Robustella's fashion show became a true sensation at 080 Barcelona Fashion Week due to its light irony which would send us back to our college time, and its climax – a big number of condoms thrown by the models into the hall.
Source of the image: Fashionreporters.