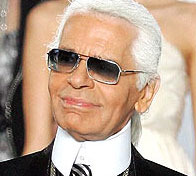 Karl Lagerfeld got into yet another conflict with the "People for the Ethical Treatment of Animals" organization. World-known couturier announced that he is not going to exclude fur and leather from Chanel collections. The 75-year-old couturier and director of "Chanel" said that the fur, leather shoes and clothes debate loses its seriousness when we consider that it arises in the world where people eat meet.
He expanded on the subject by saying that northern hunters survive by hunting and killing animals which would kill them otherwise.
PETA representative, Michael McGraw, responded to Lagerfeld's announcement through the New York Post newspaper saying that Lagerfeld's idea "kill or be killed" is simply absurd and asked, when was the last time that a human life was threatened by a mink or a rabbit?
This is not the first conflict between Lagerfeld and the animal-protection society. PETA activists threw a tofu cake at him in protest to the natural fur being used in fashion collections. However, the cake ended up hitting another famous fashion designer – Calvin Klein.
Photo of Karl Lagerfeld: www.colboard.com.