Bizarre fashion has certainly justified the name by turning out a truly freaky item – and a wedding dress at that! Imagine going all hairy for your wedding – all right, not exactly hairy, but you may well feel so having such a lot of human hair all over your body! The hairy-scary idea belongs to Thelma Madine, known by her appearance on the channel 4 series My Big Fat Gypsy Wedding (was it where she derived her inspiration?) and Ryan Edwards, Voodou hair stylist.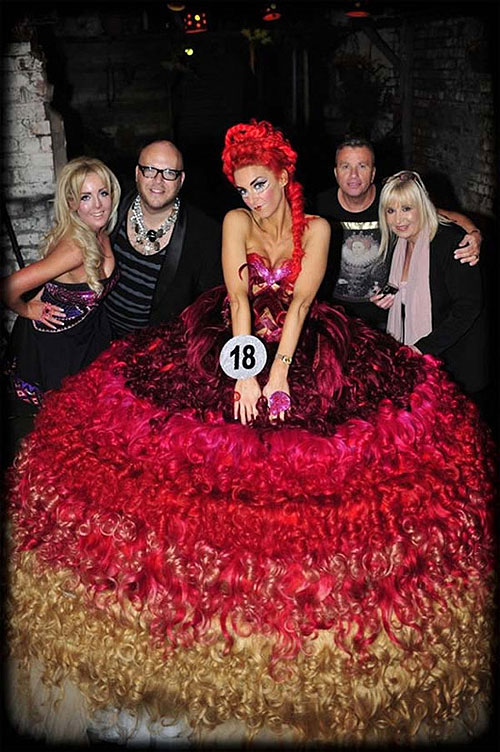 It was one design that Madine's Nico bridal store dress maker specialists couldn't bring out without all-important assistance from Liverpool hairdressing salon Voodou. 250 meters of hair and many thousands of different pieces of hair went to create the uncanny gown, together with 1500 crystals. The gown is size 6 with 12 underskirts, and quite heavy – something like 33 pounds! Eight people were making to make
Another striking feature making the gown something special is its color – the skirts are deep red instead of the expected white. Maybe if someone wants a Halloween wedding…
The last word in wedding dresses (made for over 300 hours by eight people) was unveiled – and acclaimed! – at the Alternative Miss Liverpool pageant in Liverpool. Now Thelma Madine is looking forward to Lady Gaga's next visit to the UK, she is sure to want to try it on!