A short jacket looks less formal than a classic jacket length. With it, you can easily create a stylish and trendy image – albeit a bit informal.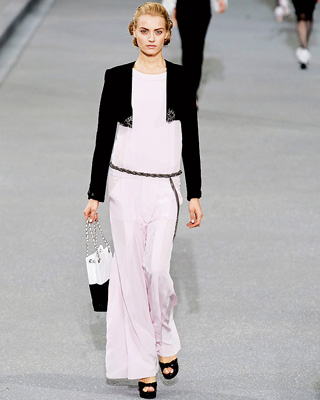 A plain jacket can be successfully replaced by a shortened version. Short jackets in business clothing are better to wear with a classic pencil skirt or high waist trousers, with a strict and concise shirt or blouse. To create a strict and formal image, it is important to remember that the jacket should be made of the suit fabrics – a denim short jacket or the one from a similar "democratic" material is not appropriate for business clothes.
A short jacket can be worn in warm weather and in cold season. A short cardigan with the trendy three-quarter sleeves (a relevant detail in the designers' Spring-Summer 2012 collections), shorts, a bright top and high-heeled sandals will help create a stylish, trendy and seductive image. For a colder season, less provocative combinations would prove to be more suitable. For example, a short jacket can be worn with jeans, sweater or turtleneck. By adding a big, casually knotted scarf or a shawl, one can produce an impression of everyday urban life.
Short jackets are suitable for special occasions. In fact, such models successfully complete the evening ensembles for all occasions. A jacket made of suede, velvet or other expensive fabric with short or long sleeves will complement any evening outfit.