Although pre-fall collections usually appear on sale in mid-summer, or even at the beginning of summer, Giambattista Valli has made the new pre-fall 2012 collection literally for the fall– the designer's pre-fall wardrobe is distinguished by the abundance of luxurious fur, which occupies a key place in the new collection.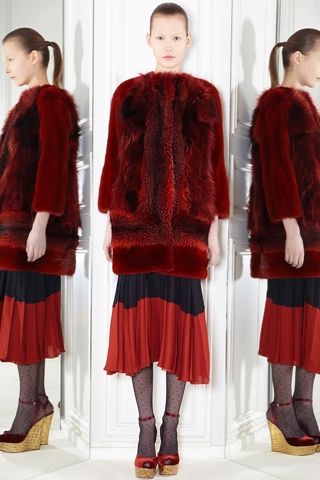 Perhaps, there has never been such a diversity of models of fur garments in Valli's collections: long jackets made from pieces and strips of fur for everyday clothing, combined with skirts or casual trousers, luxurious fur bolero especially for the evening dresses, jackets made of thick wool with fur trim and even something in between a dress and a fur coat.
Fur luxury of the new Giambattista Valli pre-fall 2012 collection is harmoniously combined with the practicality of the clothing: the designer has found enough room for elegant business trousers and blouses, for light chiffon dresses with a vintage-style print, for classic pencil skirts with slightly raised waist.