David Bowie has gradually become a legendary figure not only in the world of rock music, but also in the world of fashion: Bowie's flamboyant concert images become sources of inspiration for fashion designers, and one of them is Sarah Burton, the creative director at Alexander McQueen.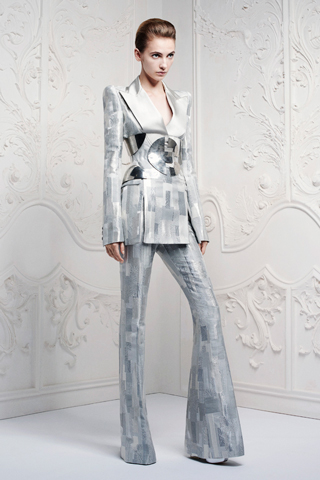 The new spring 2013 pre-collection from the British brand became a kind of ode to the iconic image of Bowie and the era of the mid-seventies as a whole.
Bowie's radical images demanded radical approach to the proportions, as the Alexander McQueen designer says. The collection is defined by high waist, long leg line, and the very 'sharp', 'raised' shoulders, which have become a trademark of David Bowie's concert outfits in the distant seventies – as well as flared trousers. The spring 2013 collection by Alexander McQueen is really practical, in particular its black-and-white part, though at first glance it may be difficult to understand it.