Chanel Haute Couture for Same Sex Marriages?
The press is confused, and one can see a lot of headlines like "Lesbian Couture: Karl Lagerfeld Supports Same Sex Marriages". We are forced to ask the question what it means. Is it lesbian fashion? The fashion for same sex love? Or is it nothing but a scandal, hyped by the media that have nothing else to say about the appearance of two brides on the catwalk? These and other questions remain unanswered. They drag like the tail of the models' wedding gowns that have closed the recent show.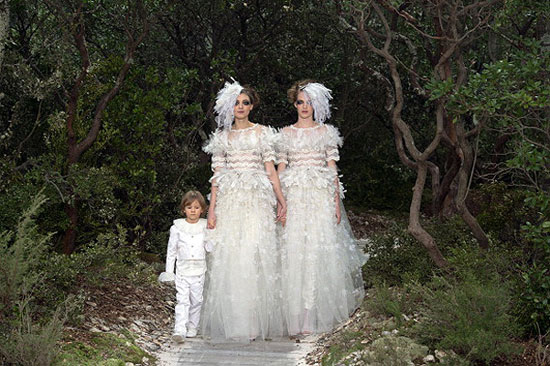 The creative director of Chanel was asked an uncomfortable question whether the concept of the show was designed to support the idea of same sex marriages in France. Kaiser Karl responded in a very blurry way. At the moment, we can only state the fact: this catwalk decision certainly was aimed at attracting the attention of the public, but no one can say for sure what conclusion the audience drew from the couple in white wedding gowns. And what is your verdict?