Do you believe Kim Kardashian or Nicole Kidman are often present in the front rows of spectators at fashion shows because the are very interested in fashion? Not at all. This is business, just business. Although it is presented as a "close friendship that binds the designer and the actress for many years."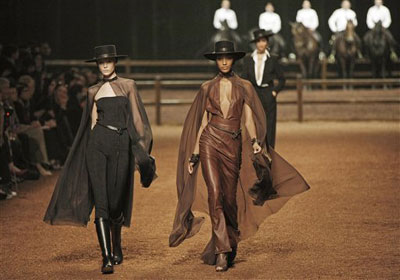 Back in 2010, Rihanna received 97,500 dollars for her participation as a vip-viewer in Karl Lagerfeld's show. But it is something like a penny, compared to the sum of 800,000 dollars, which was paid to Jessica Chastain last year for being in the first row of the Armani Prive catwalk event.
How much are the stars paid for being present at the show? Beyonce gets $100,000 for the role of a spectator, while Chloe Sevigny earns 65,000 dollars, Kim Kardashian attends shows at the price of 15,000 dollars, and Blake Lively gets 50,000 dollars.
However, some of the stars will not admit they earn money for going to Fashion Week events. These true fashion lovers include Anne Hathaway and Cate Blanchett.
The recent Fashion Week in New York was attended by such celebrities as Amy Adams, Diane Kruger and Emma Stone, who were present at the Calvin Klein show for "some reward" (the size of which they prefer not to share with the public).
Paris is said to be another story. Stars do not go there for money, but for the sake of PR and prestige. Obtaining the reputation of the brand's friend sometimes means much more than money because one can be invited to work as an advertising person, and that brings millions of dollars.
The Christian Dior fashion show at the recent Paris Fashion Week was attended by Charlize Theron, Mila Kunis, Marion Cotillard and Natalie Portman, solely due to their love of art. However, Charlize, Natalie, and Marion are the official advertising representatives of the brand. The Chanel show was attended by Kirsten Dunst, Cate Blanchett, Audrey Tautou and Lea Seydoux, and they also were paid nothing. Though Audrey has already received a lot from the brand – she has been advertising the most famous Chanel # 5 fragrance for a few seasons.