The dream of all the fans of Alessandra Ambrosio, exclusive lingerie, and jewels has come true. The Victoria's Secret brand has unveiled the first photo of the model in the Fantasy Bra, which will be demonstrated at the next Holiday Victoria's Secret Fashion show, which will be held, according to the tradition, in mid-November.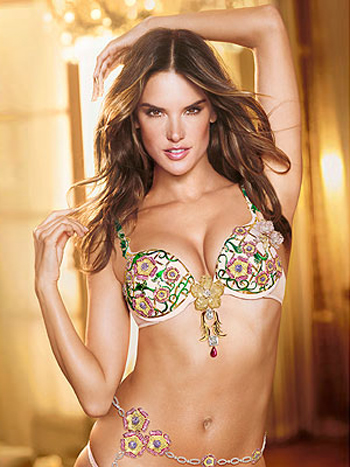 The bra, which costs two and a half million dollars, was created by the London Jewelers company and was called Floral Fantasy Bra Gift Set. It is an intimate work of jewelry art, decorated with more than 5,000 precious gems – diamonds, sapphires, rubies and amethysts, as well as an 18-karat yellow and rose gold.
The precious bra is decorated with two detachable diamond flower pins, and the flower, which includes 12.5 and 20-carat diamonds.
If the expensive set of lingerie seems to be a not very significant investment of your money, please yourself with a fragrance as well – a bottle of the Bombshell Fantasy fragrance, bestrewn with white, pink and yellow diamonds, sapphires, rubies, 10-carat white diamonds and a carved butterfly, will have a "ridiculous" price of 500,000 dollars!