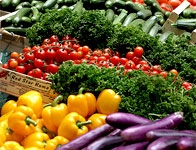 Do you like vegetables? Do you eat them on a regular basis? Do you think they are beneficial to your health? In fact, by far not always. Cooked vegetables may contribute to caries formation, warns the study conducted at the University of Dundee, Scotland. The results were published in European Journal of Prosthodontics and Restorative Dentistry.
The scientists experimented with simple vegetable stew. The researchers found that fried eggplant, squash and green belly pepper in vegetable stew had increased content of acid that harms the teeth. Acidity level of this vegetable stew was comparable to the one of sodas known as the strongest teeth destroyers. It doesn't mean all vegetables are harmful for our teeth. Moreover, the scientists encourage us to cook tooth-friendly vegetable dishes.
Unlike frying, simmering does not increase the acidity level in vegetables.
The experiments also show that cooking method doesn't change the acidity of tomatoes and onion. Both fried and simmered red bell peppers have high acidity level. According to Graham Chadwick, the author of Dental Erosion, who led the study, dentists may use the findings for giving more effective consultations.
Source of the image: flickr.com/photos/computix.