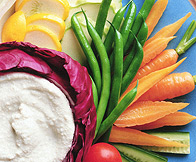 Mass media offers women who try to lose weight such a great variety of diets that each of us should be able to choose a frugal menu that would fit our taste: buckwheat diet, color diet, sweet diet… Dieticians are shocked by a number of offered ways to lose weight; they argumentatively criticize the diets which involve changing one's diet by limiting oneself to some particular products.
The Soup Diet
For instance, the so-called "buckwheat" or "soup" diets can result in the woman having deficiency in animal protein and a number of vitamins and minerals.
The Color Diet
Color diet (which bans colored products and allows only the white-colored ones), as dieticians believe, is ultimately illogical. What have carrots and tomatoes done wrong? Moreover, there is no difference between differently colored apples.
Sweet Diets
Sweet diets, as doctors believe, are the most absurd ones. Chocolate, strong coffee and caramel simply enhance the appetite and promote fat storage.