Men like women with olive skin. Yes, they are mysterious, desirable and so hot! Pale-skinned beauties often complain that southern girls rarely have dry skin, irritation and redness… However, dark-skinned women have their own beauty problems. We are giving a few tips on how to deal with them.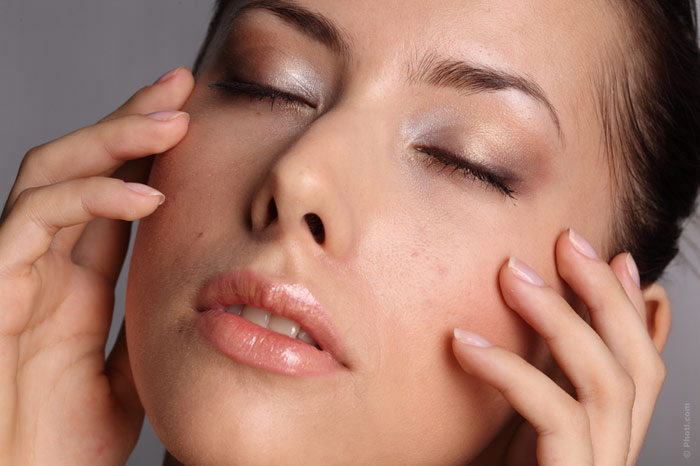 Dark circles under the eyes
This problem affects not only olive-skinned girls. However, it is the most apparent in them. It is possible for such women to get rid of dark circles under the eyes, but they need more than just applying slices of cucumber.
For eastern and southern girls, a few drops of concealer is not enough to disguise the bluishness. Healthy sleep and healthy food does not help either. Even 6-year-old beauties have these dark circles.
Solution:
Admit that you cannot fight genetics and fully get rid of dark circles, and you will need complex measures. Do not limit yourself to one product. You may need a whole line, as opposed to women with pale skin.
Buy a brightening eye cream. It should contain vitamin C, firming peptide complex, soothing plant extracts. Peptides significantly reduce skin redness and bluishness, boost skin density, and strengthen blood vessels. Licorice extract is a well-known ingredient that reduces swelling, and vitamin C stimulates collagen cell growth and reduces pigmentation. Apply the brightening eye cream at night and in the morning before makeup.
Use two types of the concealer: liquid and stick. Major work is done with a liquid product – it is applied on dark circles in a thin layer. Wait until absorbed. Then disguise bluish areas with a stick. Spread the product with your fingers. You should note that the rule of selecting a concealer one tone lighter than your skin does not work for olive-skinned girls. A concealer of a lighter shade will look ashy. You should choose a concealer, which coincides with your own skin tone.
Monoeyebrow
How many times have olive-skinned girls heard jokes of their eyebrows! If you heard them, you would hardly envy those who have olive skin.
Solution:
Fortunately, thick eyebrows are in a trend (thanks to Brooke Shields and Cara Delevingne), and now it is not necessary to remove much hair. Therefore, there are two most effective ways:
Tweezers. They are helpful if you have not so many extra hairs.
Wax. Buy a special set for eyebrow waxing. It is very convenient to use. Such wax has a delicate pink or blue color for you not to make a mistake. It gives a good and long-lasting result. In between waxings, you only have to fix the eyebrow shape with tweezers. It is not necessary to change eyebrow density radically – it is your business card. In addition, thick eyebrows are a sign of youth.
Too dark eyebrows
Eyebrow care is not limited to correcting their form. Girls with olive skin have heavily pigmented eyebrows, and often want to soften the saturated carbon color. However, too light eye shadow or eyebrow pencil makes eyebrows gray. Waxes, on the contrary, make them black. What should you do?
Solution:
Waxes are not suitable for dense eyebrows – they glare and draw attention. Your product is eye shadow. The main thing is to select the shade properly. Avoid cool colors that give an ashy effect. The most successful option is dark brown eye shadows (loose, not creamy ones!). Pre-comb the eyebrows, and then apply the eye shadow with a corner brush.
Skin pigmentation
Pigment spots are a common problem. Fortunately, it can be solved.
Solution:
Consult a dermatologist that would appoint the best therapy: from laser treatment and bio dermabrasion to lightening creams.
Be sure to use a sunscreen, despite the fact that dark skin is not so susceptible to sunburn. It will help to prevent the appearance of dark spots. The problem is that sunscreens leave marks and stains on dark skin. However, there is a secret – use a daily moisturizer with SPF 30 to 50.
Apply yellow or greenish concealers pointedly, shade with a brush, and apply makeup on top.
Foundation
It is very difficult to choose the foundation of a medium shade. It may look great in a bottle, but resemble a mask on the skin.
Solution:
Be selective with products for dark skin. Dark shades may include green, gold, yellow, or olive. Your hand skin may be different from facial skin, so try the foundation only on the face.
Find those brands that specialize in a wide palette of foundations. Maybelline New York, L'Oreal Paris, Rimmel London have a wide range of foundations. If you can not pick a color, you will need to combine several foundations.