The beauty editors of the New York Magazine have tested ten brands of oil absorbing sheets for the face and found the best product, so we can be very grateful to them.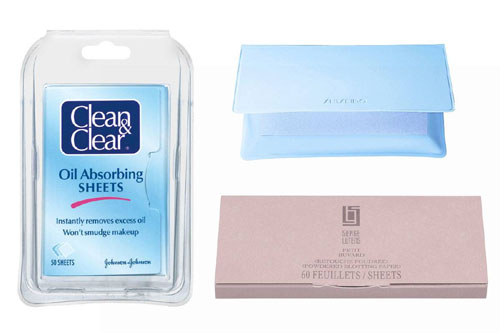 Not only oily skin, but normal and dry skin as well, begins to shine by the end of the day. Oil absorbing sheets became a salvation for many working women. After all, using oil absorbing sheets does not require removing makeup, and one can remove excessive sebum from the face without spoiling makeup.
One would think that such a simple product should not be different when produced by various brands. But the New York Magazine editors say that not all oil absorbing sheets are the same. They tested oil absorbing sheets of the ten popular brands and announced their verdict.
The following oil absorbing sheets are not recommended:
Japonesque. Rice paper sheets are small and delicate, but they are too thin. Sebum passes through the paper onto the fingers during use.
Black Radiance. These oil absorbing sheets are also too thin. A single layer of paper was not enough for the normal skin, and there happened to be fat on the fingers too.
Bobbi Brown. The texture resembles baking paper, it is waxy and slippery. The sheets do not absorb sebum.
Recommended, but with restrictions:
Serge Lutens oil absorbing sheets. The smell of fresh flowers, a gold-flecked paper, a nice product, but it is not suitable for everyone.
Sephora oil absorbing sheets. The sheets of this oil absorbing paper smell of lavender, but one might feel as if there were talc on the hands. However, there are no traces of oil left on the face.
Boscia oil absorbing sheets. These sheets also come with the scent of lavender, but it is stronger than that of Sephora oil absorbing sheets. They eliminate skin shine well, but not everyone likes their being too soft.
These Oil Absorbing Sheets Are strongly recommended:
Shiseido PURENESS Oil-Control Blotting Paper. They are reliable and of high quality. On the surface, there is a translucent powder coating, which provides additional matting effect.
Neutrogena Shine-Control Blotting Paper. The only small drawback is its blue color. It is good that you will immediately see the result of the oil absorbing sheets, but your colleagues at work may not find the demonstration of oily sheets very attractive.
Tatcha Original Aburatorigami Blotting Papers. They are characterised by effective degreasing and outlook (the papers are flecked with gold).
And the best oil absorbing sheets are:
Clean & Clear Oil Absorbing Sheets. The texture is plastic, they have a soft touch to the face and are known to remove sebum perfectly well.
Do you use any oil absorbing sheets for the face?