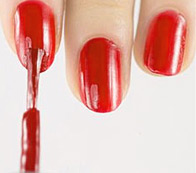 Basically, it is advisable to pick acetone free nail polishes. Besides colored polish, you will also need to choose a base coat, or a hardener, and a top coat, or a binder. Today many cosmetics manufacturers offer products that contain both base coat and top coat. You can tell the quality of nail polish only by applying it to your nails. However, here are some tips to follow when buying nail polish.
Choosing Nail Polish Color
As you look at a nail polish display stand, try to imagine how the color that appeals to you would look on your nails. Perhaps, that would change your mind. As a general rule, the color that shows in paper samples looks different once applied. The paper sample indicates the transparency of polish, or how many layers you will need to apply. With transparent nail polishes, it is better to apply them over thicker base coats. If available in a store, sample nails reflect the true color of nail polish.
Nail Polish Thickness
It is important to check the thickness of nail polish. If a drop doesn't fall off the brush within 5 seconds, the polish is too thick. Such a nail polish is hard to apply and dries out quickly.
Nail Polish Brush
Examine a nail polish brush carefully. Make sure the bristles are straight. The brush should be long and limber with thin and elastic bristles.
Mixing Nail Polish Around
It's better to buy the nail polish with a little mixing ball in it. When you shake it, the ball helps mix the polish around.
Nail Enamel Strips
And in case you don't want to wait until the nail polish dries and then treat that yellowish color of your nails, you may use the nail enamel strips, which just stick to your nails. You may read about it more details in "Manicure Dry Nail Enamel Strips – Alternative to Nail Polish".