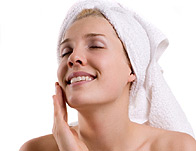 If you treat your face skin with organic-based homemade masks, it in turn will surely show you its gratitude with a fresh and healthy looking skin. You can start looking after your skin with some cottage cheese masks. They have a fantastic effect on face skin. Two kinds of masks can be made with cottage cheese.
Cottage Cheese and Sorrel Facial Mask
First mask variant suits the mixed skin type. Mask preparation: take seven sorrel leaves, wash them, chop them, and crush until the mix is smooth; add whipped egg white, 1 tbsp of cottage cheese, and 1 tbsp of honey; mix everything well. Wipe your face off with tonic lotion or sorrel juice before applying the mask. Leave the mask on for 15-20 minutes. Take the mask off with strong tea tincture.
Homemade Facial Mask for All Skin Types
Second variant fits perfectly any skin type. This face mask is characterised with nourishing, tonic and even slightly bleaching effect. To make the mask mix 2 tbsp fresh cottage cheese, 1 large cucumber (coarsely grinded), 1tsp vegetable oil , and 1 tbsp milk. Add three well grounded parsley leaves and a knife-tip of salt to the mixture. Mix the ingredients well and apply the mask for 20-25 minutes. Wash the mask off at first with warm and then with cold water.