Body Butter Duo will appear in the Body Shop stores in May, 2011. And it is worth introducing to the fans of the brand, as well as to those who will join in, especially after such a great novelty.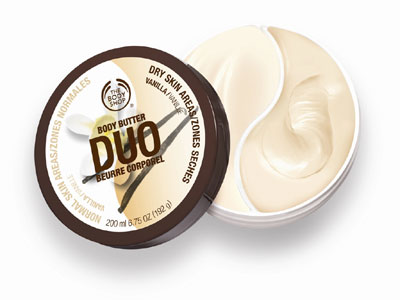 Body Butter is the visit card of the British Body Shop brand. This is, indeed, one of the most noticeable brand products. Every three seconds, Body Shop oil is believed to be sold somewhere in the world. So what makes the new product so special?
This product is "two in one". In the box, you will find two sections in the form of yin and yang, and a separate product in each. In fact, the oil will be of one kind: vanilla, rose and so on. But in each section there will be different types of texture and consistency for different skin areas.
The first section contains soft butter which many of us are accustomed to using after shower to soften and moisturize the body. In another section one can find solid oil, almost like a balm for a few rough and problem skin areas: knees, elbows, and heels.
Most of us have mixed skin with drier and normal areas. Therefore, the new Body Butter Duo fully meets the needs of the skin.
It offers various tastes: vanilla, strawberry, mango, and floral tastes. The price is about 18 euros. We are looking forward to the premiere scheduled for May 5.
Source of the image: Beaut.