Admirable, marvelous, stunning, Victoria's Secret models are all those and more! If anybody knows how to take care of her beauty, it is they, which makes their beauty secrets especially desirable. See what they can advise you to cheat nature and add some touches to your looks that will make all the difference!
But keep in mind that all these have to be maintained by inner beauty! So, here's what Victoria's Secret models share with us.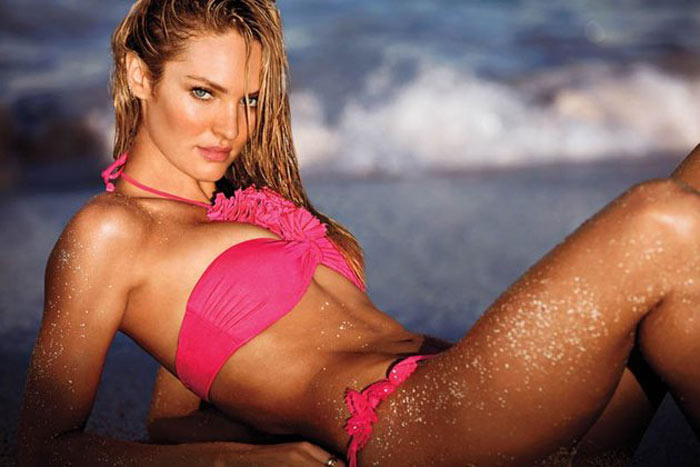 1. Wear a tan
When you see them on mag covers you may think they are done over in bronze by airbrush, but really they are always tanned. Tan hides skin flaws, that's their first secret for you to make use of.
2. Find help in the concealer
A waterproof concealer is your great friend that is ready to cover up blemishes, discolorations, all sorts of flaws. There are regular concealers like NARS, and beach concealers like Dermablend Leg and Body Cover with SPF 15, so take care to choose the right one for the moment.
3. Hairless body
Yes, this is a well-known – and grave – problem and a constant struggle to get rid of stubble springing up. You have to shave or have waxes constantly. Victoria's Secret models go for lasering. If lasering is not your thing (it may sound scary to some), achieve better results with exfoliating and moisturizing.
4. Getting self-tan
Victoria's Secret models' skin looks invariably flawless which is due to the regular use of the bronzer and self-tanner, but the extra touch is that they look very natural. It is created by exfoliating and moisturizing. Choose products that are moist, and use them all over your body, not leaving out a single nook and spot. Besides, models recommend a regular intake of beverages which also helps keep the skin soft.
5. Keeping cellulite in control
Cellulite is one of Victoria's Secret models' troublesome issues too. Their tip for this is Clarins Body Lift Cellulite Control, a cream that is great for correcting the problem. It requires multiple application. Pick a bronze hue and draw contours around the area that worries you.
6. Mind the contours
A noteworthy idea is to contour the waistline on both sides – it will give you a slimmer look. When you do that, remember to employ a foundation choosing one about three shades darker than the color of your (tanned) skin.
7. How to imitate artificial lashes
For an instant fake lashes effect – if you don't have them handy – use a business card! Hold it behind the eyelashes and apply mascara lavishly. You will get a strong false-lashes effect.
Here are some of the tips by Victoria's Secret models revealed for your benefit, and at the end the most important of them waiting for you. All of the models say in one voice that you can't get by without confidence. As you walk through your day, self-assured, with your face kinda lit inside, fortified with these tips, you will feel up to anything, even for the coming beach time! Well, maybe some more tips will also come in handy?