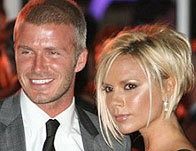 The former Spice Girls soloist Victoria Beckham has quarreled with her husband, the soccer star David Beckham, because he got another tattoo. Victoria believes that David has enough tattoos already and that he should pull back on his tendency of decorating his body with tattoos on a regular basis. Yet, he could not resist and added another tattoo to the collection on his left hand.
This time David got himself a citation from the Bible. In general, Victoria likes her husband's tattoos, but she would like his body to have some naked spots left. 33-year-old soccer player is famous for being "addicted" to tattooing – his entire upper body is covered with tattoos.
Photo of Victoria and David Beckham: clusterflock.org.