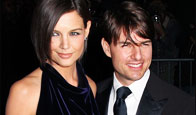 Tom Cruise, who lived in London for two years while married to Nicole Kidman, says he and his wife Katie Holmes are thinking of leaving America for the UK. This would be a great opportunity for the "Batman Begins" star's theater career. Tom Cruise thinks it would be a fantastic move.
"Katie was absolutely brilliant and to work in the West End would be a joy. It is something to consider for both of us. I think we'd love it here, even if it is so, so cold!" – Tom said. Tom wasn't specific when they plan to start packing, but he is now traveling in Europe. The actor is going to see his friend, soccer star David Beckham, who is playing in A.C. Milan now.
Source of the image: topnews.in.