…and finding it a tough job! Soon many of us will find ourselves in his position when both girls, Lautner's girlfriend Lily Collins and Kristen Stewart, his Breaking Dawn partner, will appear on the screen in the role of Snow White. A good reason for a spot of comparison.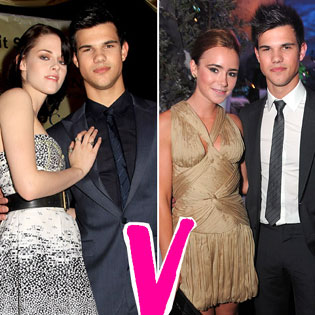 But Taylor Lautner, 19, just doesn't feel up to comparing between the brunette belles. When asked about who will make the best Snow White at VMAs on Sunday, he, according to the Hollywood Reporter quotation, could only say that the actresses are so different he would rather "root for them both."
Providing material for comparison, Universal is shooting Snow White and the Huntsman starring 21-year-old Kristen Stewart in the leading role as well as Chris Hemsworth and Charlize Theron. Collins, 22, Lautner's Abduction costar, is going to turn into the fairy-tale beauty for an alternative version that is rumored to be entitled simply Snow White together with The Social Network star Armie Hammer and Julia Roberts.
Lautner's Twilight Saga love is going to be "exciting," says the highest-paid Hollywood teenager, for the role will be a new image for her; he envisions her to be "cool and edgy and dark." Collins is certain to strike a different spark, but she will be "great too."
Source of the image: Hollywoodlife.