Philippa Middleton has always been very good-looking from behind, but the Royal Wedding, where she sported a figure-hugging Alexander McQueen dress, brought her shapely posterior sharply into focus. As accolades are piling up, 27-year-old Pippa is ready to share her fitness preferences.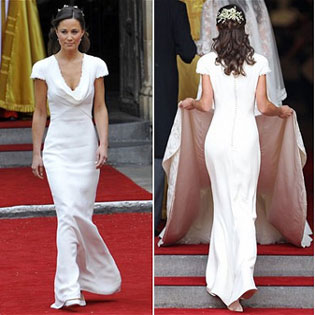 The Pilates method is what she attributes her enviable pelvic shape to. For her Pilates has become an essential part of life, a "necessity" that helps her keep up her lifestyle.
Her recommendation is to be found on her fitness center's website, where Pippa wrote that in Pilates she had found not only a welcome psychological relaxation from her busy London life that keeps her perfectly calm and fresh, but also a source of physical energy that helps her control breathing, stay toned up and supple. Now she knows how to stay fit "whether it's 7am in the morning or 7pm at night."
She went on to say that she had achieved a noticeable difference in her "core strength and posture" in the course of several months and finished with a word of high praise for her instructor Margot.
Considering a significant increase in the demand for bottom-lifting surgeries registered now in the UK, that may be a timely advice for a lot of women.
P-Middy is being tentatively acclaimed as Jennifer Lopez's successor for a shapely behind, and while experts can agree or disagree with that, a less objective set of professionals hurry to capitalize on it. It is said that Vivid Entertainment, an adult entertainment company, is ready to stump up £3 million to get the star of the Royal Wedding feature in a porn movie.
Source of the image: Ibtimes.