Nicole Richie had changed her opinion about her breast endowments several times over the years until she finally went and did it. The 30-year-old fashion designer has gotten breast implants since this summer!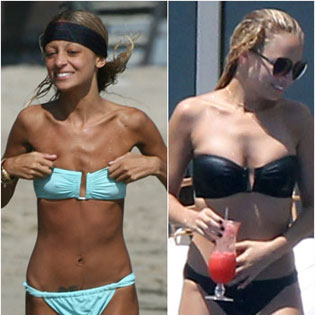 Us Weekly's inside source who passed the word said she didn't hide it from her friends.
Anyone could see that the fashion designer sported impressive chest adornments during her outing with friends in Mexico last weekend – especially impressive if one is to remember that the same time last year her bikini pics looked a lot flatter.
Another source says Richie did it for her husband Joel Madden, 32, because she thought that her pregnancies and breast-feeding had "killed what boobs she did have."
Although at the time she was breast-feeding daughter Harlow in 2008 she said she didn't like having big breasts, later her friends heard her considering a lift, spilled another source – but they didn't think she really meant it!
Source of the image: Radaronline.