The non-profit nursing group Angels In Waiting's attorney Gloria Allread demanded the authorities to take children away from Nadya Suleman, 33, the California mother of world's longest surviving octuplets who were born prematurely in January 2009. Along with worldwide attention received, the octomom has recently seen a growing avalanche of allegations of neglecting her parental rights.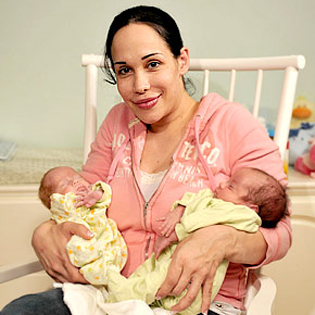 Nowadays the campaign against unmarried and unemployed Suleman seems to be unfolding via media. During the interview for KIIS-FM radio show in Los Angeles on Thursday, Allread accused Nadya of being more involved with shopping and papparazzi pics than in taking sufficient care of her numerous newborns.
Allread told Ryan Seacrest, the radio host, she is confident that the babies require foster care services because the mother is away most of the time and "rarely stops in the nursery to see the babies or ask about how they are doing".
These allegations were in fact supported by some of the KIIS-FM hotline phone callers who reported to have been recently spotted Suleman shopping for several pairs of shoes.
Meanwhile on Monday, March 23, single mother of 14 children Suleman decided to reject the services of the non-profit nursing group Angels In Waiting which volunteer nannies spent around 100 hours at the La Habra, Nadya's new home about 25 miles east of Los Angeles, helping with the octuplets and the previously born six children, all of them conceived through in vitro fertilization. The nannies also insist Nadya has seldom been seen in the nursery.
On January 26, 2009 the octomom prematurely delivered the set of children weighing between 1 pound, 8 ounces, and 3 pounds, 4 ounces, the two of which are still remaining in neonatal intensive care unit at Kaiser Permanente's hospital in Bellflower, California.
Source of the image: usmagazine.com.